Blinken's arrival in Kyiv on September 6 - First details on US Secretary of State's visit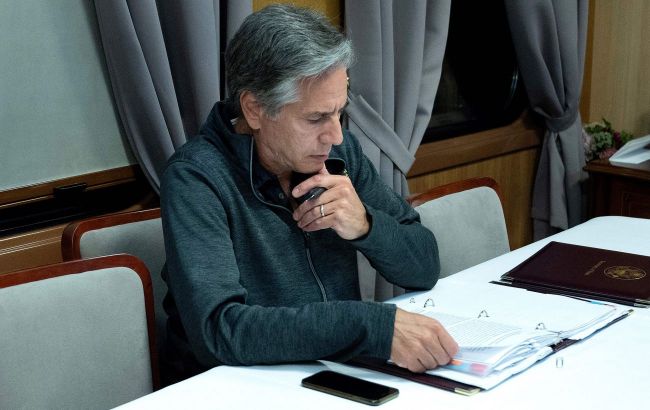 U.S. Secretary of State Antony Blinken (Photo: Getty Images)
United States Secretary of State Antony Blinken arrived in Kyiv on Wednesday, September 6th. He will hold a series of important meetings.
The first details of Antony Blinken's visit to Ukraine - in a material by RBC-Ukraine.
CNN reported that the U.S. Secretary of State arrived in the Ukrainian capital earlier this morning. This is Blinken's fourth visit to Ukraine since the beginning of Russia's full-scale invasion.
Blinken traveled to Kyiv by train (photo: Getty Images)
Blinken, together with the U.S. Secretary of Defense Lloyd Austin, first visited Kyiv in April 2022 after the liberation of the Kyiv region. The second visit to Kyiv occurred in September of the previous year during the counteroffensive in the Kharkiv region.
Blinken and the Minister of Foreign Affairs, Dmytro Kuleba, met at the border in March 2022.
Purpose of the trip
Blinken's visit is taking place against the backdrop of Ukraine's counteroffensive, which is progressing slower than planned. It is expected that today, the diplomat will announce a new $1 billion aid package for Ukraine. U.S. State Department spokesperson stated that the package will improve air defense and strengthen the Ukrainian Armed Forces to break through "solid lines of defense" set by the Russians.
In a comment to Reuters, a U.S. State Department official stated that Blinken will discuss the counteroffensive in Ukraine and the military's need for strengthening energy supplies ahead of winter.
"I think what's most important is that we get a real assessment from the Ukrainians themselves," the official said. "We want to see, hear how they intend to push forward in the coming weeks," said the official.
Who Blinken will meet?
The U.S. Secretary of State will stay in Ukraine for two days. Today, he is expected to meet with President Volodymyr Zelenskyy and Minister of Foreign Affairs Dmytro Kuleba, as well as civil society representatives.
Tomorrow, Blinken is likely to visit key Ukrainian cultural sites. However, American media emphasize that "plans are subject to change."
Blinken honored heroes
The Ministry of Foreign Affairs of Ukraine reported that the U.S. Secretary of State began his visit to Ukraine with a visit to the Berkovetske Cemetery. He and Dmytro Kuleba paid tribute to the fallen Ukrainian heroes.
Blinken's visit was kept secret
Previously, the media reported that U.S. Secretary of State Antony Blinken would visit Ukraine on September 6th. However, there were no official confirmations.
This morning, the center of Kyiv was partially closed. This is done when foreign delegations arrive in the capital. Sources from RBC-Ukraine confirmed that Blinken had arrived in Kyiv for an official visit.
The interlocutors indicated that Blinken's visit was not announced for security reasons.