Biden promises Zelenskyy to send small number of ATACMS missiles to Ukraine - media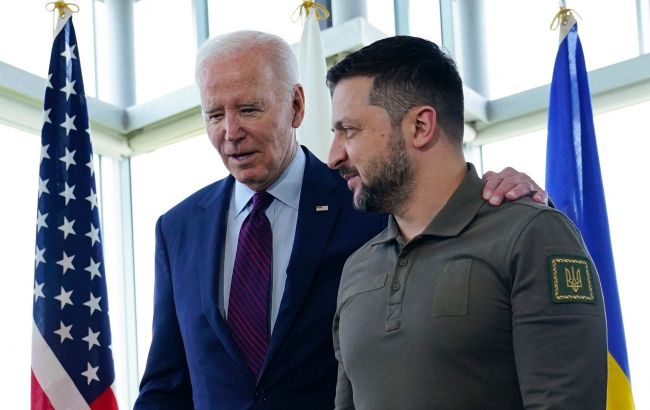 President of the United States Joe Biden and President of Ukraine Volodymyr Zelenskyy (Getty Images)
President of the United States Joe Biden has informed Ukrainian President Volodymyr Zelenskyy that the U.S. will provide a small number of ATACMS long-range missiles to assist in the war against Russia, according to NBC News.
Three American officials and a U.S. Congress official familiar with the discussions have not disclosed when the missiles would be delivered and when a public statement would be made.
Ukraine has been requesting ATACMS missiles for several months, as they have a range of approximately 180 km and can target supply lines, railways, and command posts behind the Russian front lines.
Pentagon officials said the U.S. does not have a large stockpile of excess ATACMS, which have a bigger payload than traditional artillery, to provide to Ukraine.
Also, some in Washington have resisted supplying the weapon, out of fear that it would widen the war with Russia.
According to a congressional official, there was still a debate about the type of missile that would be sent and how many would be delivered to Ukraine. They added that countries in Eastern Europe had already given Ukraine large portions of their weapons stockpiles.
According to The Washington Post, the White House intends to provide Ukraine with ATACMS missiles armed with cluster bombs, rather than a single warhead.
ATACMS for Ukraine
In recent weeks, Western media noted progress in the missile transfer issue. Furthermore, the U.S. Senate has urged President Biden to immediately provide long-range missiles to Ukraine.
The White House has been cautious in its statements, indicating that discussions are ongoing on whether to send long-range missiles to Ukraine.
Yesterday, President Volodymyr Zelenskyy stated that Ukraine and the U.S. were "on the home stretch" on the delivery of long-range ATACMS missiles. If the missiles are not provided, it could result in battlefield losses in Ukraine.