Biden and Sunak to discuss transfer of cluster munitions to Ukraine – BBC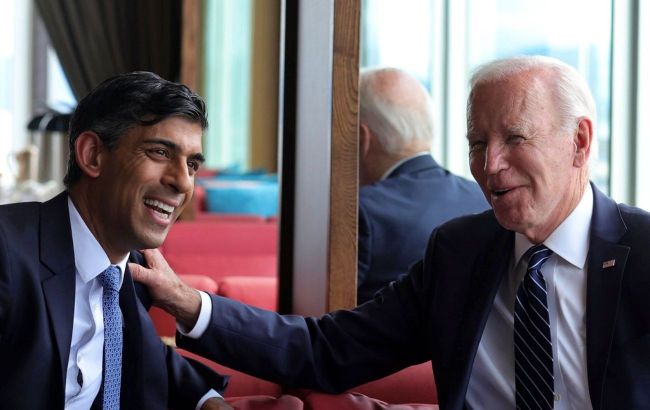 Biden and Sunak to discuss transfer of cluster munitions to Ukraine
President Joe Biden arrived in the United Kingdom ahead of the NATO summit in Vilnius, following doubts raised by some allied countries regarding his decision to transfer cluster munitions to Ukraine.
According to BBC, this issue will be one of the topics to be discussed between the American President and British Prime Minister Rishi Sunak during their meeting.
The British Prime Minister refrained from directly criticizing the United States' decision to supply cluster munitions in the new package announced on Friday. However, Sunak reminded that the United Kingdom was one of the 123 countries that signed the Convention on Cluster Munitions, an international treaty that bans the production or use of weapons.
Additionally, NATO partner country New Zealand stated on July 9th that cluster munitions can cause "huge damage to innocent people."
Meanwhile, the United States informed they have received written assurances from Kyiv that the Armed Forces of Ukraine will not use such weapons in urban areas or on the territory of the Russian Federation.
Earlier reports indicated that President Biden would visit the United Kingdom before the NATO summit in Vilnius, where he would meet with Prince Charles and Prime Minister Rishi Sunak. According to a spokesperson for the British government, the leaders will discuss the future NATO summit and Ukraine.
Cluster Munitions for Ukraine
As part of a new military aid package from the United States, Ukraine will receive cluster munitions and other weapons. President Joe Biden emphasized that these projectiles will help the Ukrainian Armed Forces in their counteroffensive.
It is also noted that the supply of cluster munitions will be a temporary measure. Washington will provide such weapons to Ukraine until Western countries increase the production of artillery shells, expected to occur by spring 2024.
Earlier, Ukrainian Defense Minister, Oleksii Reznikov, dispelled concerns regarding the transfer of cluster munitions and outlined five key principles for their use.
Furthermore, the Advisor to the Head of the Office of the President of Ukraine, Mykhailo Podolyak, stated that cluster munitions would help compensate for the ammunition shortage in the Ukrainian military. He also noted that it would send a clear message to Russia.