Australian company sends Slinger drone killer system to Ukraine: What is known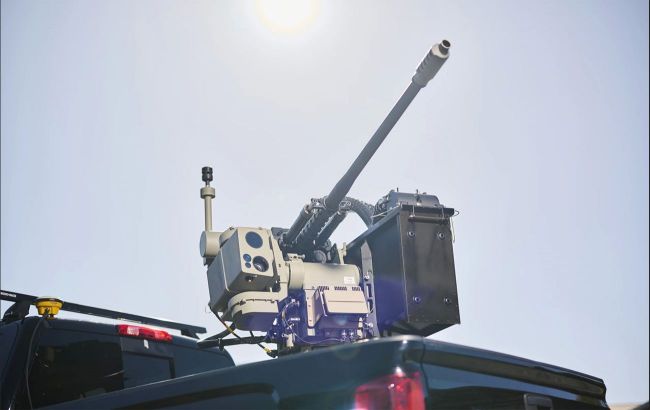 Slinger system (eos-aus com)
An Australian company has produced and delivered a Slinger drone killer system to Ukraine to help better defend its airspace, according to a representative of Electro Optic Systems company Matt Jones, ABC reports.
The system is assembled at an industrial site in Canberra, Australia, and it will assist Ukraine in better defending against Russian drone attacks.
"A replica cannon mounted on the back of a pick-up truck tracks its target, part of a weapons system that launches "hard kill" strikes to blow drones out of the sky. It is called Slinger and it is designed to counter drones at a cost Ukraine can afford," the statement says.
Jones says that the company sees a widespread threat from drones targeting Ukraine. He said, "The issue is the types of systems you would currently use to defeat drones are way too expensive to defeat a $10,000 or even a $1,000 drone."
Slinger uses advanced technology
Retired Australian Major General Mick Ryan says that war has changed forever in Ukraine, with drones playing a significant role on the frontlines.
The Iranian Shahed model used by Russia to target tanks and cities costs about $31,000. Others cost less.
"Up until recently we had to use very expensive missiles to attack these things," Ryan said.
EOS test engineer Charlotte Capper says Slinger uses sophisticated technology to achieve a blunt result. She used a joystick to follow a drone on the system's targeting screen.
"I'm just making sure it's staying on track, it's staying armed, and when we get the signal we can fire and take down the drone," she said.
She notes that learning to use it is very quick and easy. One doesn't have to know much about the technology.
When the Slinger system will be delivered to Ukraine
Last month, Ukraine's Ambassador to Australia Vasyl Myroshnychenko saw first-hand during testing how Slinger can bring down drones. Slinger's price tag is less than $1.55 million per system. It aims to take down drones at a cost of between $155 and $1,550 per engagement.
It is expected that ten Slinger systems currently in production will be delivered to Ukraine by the end of the year as part of the U.S. military aid package.
A representative from the Ministry of Defense says that the Australian government intends to make its contribution to Ukraine. However, there are currently no plans to add Slingers to the $710 million Australian military aid to Ukraine.
Slinger
The anti-drone combat module is manufactured by the Australian company Electro Optic Systems and is equipped with a 30mm automatic cannon Bushmaster M230LF.
Targeting is done through an optoelectronic complex with night and infrared detectors (which can rotate independently of the cannon) and an Echodyne EchoGuard 4D radar, as well as a wind sensor. Along with advanced ammunition from Northrop Grumman with radiofrequency proximity fuses, the complex is claimed to accurately hit small UAVs with a single shot.
Its lightweight design (up to 400 kg) allows it to be installed on light vehicles such as HMMWVs or Kozak.
Night attack on Ukraine on October 2
On the night of October 2, a large-scale air raid alarm sounded twice. The first time it was due to rocket and drone threats. The areas that were red-alerted included the Kherson, Mykolaiv, Dnipropetrovsk, and Kirovohrad regions. There were also explosions in Kryvyi Rih.
The second time, an alarm was declared in Kyiv and several other regions, with the Air Force warning of a missile threat.
The Russians attacked Ukraine with kamikaze drones and guided aerial bombs. Four Shahed drones were shot down, but there were also hits.