Attack on Nova Poshta terminal near Kharkiv: Consequences of the Russian assault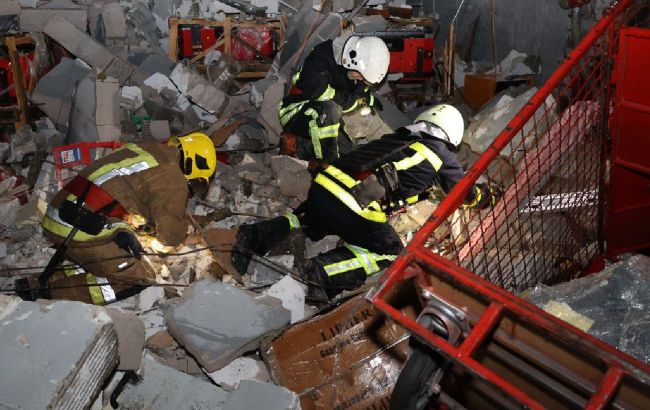 Photo: Occupants launched rockets at Nova Poshta terminal near Kharkiv (facebook.com/DSNSKHARKIV)
Russian forces launched an attack on the Nova Poshta postal terminal in the village of Korotych in the Kharkiv region on the evening of October 21. As a result of this cynical attack by the Russians, there are casualties and wounded.
Details and consequences of the shelling in the Kharkiv region are in the material by RBC-Ukraine below.
Sources used in the preparation of this material include Telegram updates from the head of the Kharkiv Regional Military Administration, Oleg Syniehubov, information from the Ukrainian Air Force, the Office of the Prosecutor General, Facebook posts by President Volodymyr Zelenskyy, and the State Emergency Service of the Kharkiv region.
Russians' strike
Yesterday, after 10:00 PM, an air raid alert was declared in the Kharkiv region. Immediately after that, explosions were heard in Kharkiv and the surrounding areas. According to law enforcement, the occupiers struck at around 10:15 PM.
President Volodymyr Zelenskyy was the first to report the attack on the Nova Poshta (one of the biggest postal and courier companies) terminal. He showed a video from the scene and reported the first casualties.
Missiles used
Later, the head of the Kharkiv Regional Military Administration, Oleg Syniehubov, revealed details of the tragedy. According to him, the occupiers used S-300 missiles.
The Ukrainian Air Force also confirmed that the occupiers attacked Ukraine with guided anti-aircraft missiles S-300 during the night of October 21-22. These missiles were launched from the Belgorod region of Russia and the temporarily occupied territory of the Donetsk region.
Photo: Occupants launched S-300 missiles (facebook.com/DSNSKHARKIV)
Consequences and casualties
As a result of the enemy's strike, a fire broke out in an area of approximately 300 square meters. The Nova Poshta terminal was nearly completely destroyed, and cargo vehicles were damaged.
#Russia attacked the #Kharkiv region with missiles, destroying the Nova Poshta postal terminal.

At least 6 people were killed, and 14 were injured. The rescue operation is ongoing.#RussiaIsATerroristState pic.twitter.com/DvfN0rteZ5

— MFA of Ukraine (@MFA_Ukraine) October 21, 2023
According to the latest information, six people have been killed as a result of the missile strike. Another 16 people were wounded, seven being in critical condition. The police and local authorities emphasize that all the casualties are civilians and postal service employees.
Law enforcement authorities opened a criminal case regarding the violation of laws and customs of war, combined with intentional murder (Article 438, Part 2 of the Criminal Code of Ukraine).
Photo: 6 people died as a result of shelling (t.me/pgo_gov_ua)