Attack on Chernihiv on August 19: Death toll rises to 7, injured child urgently transported to Kyiv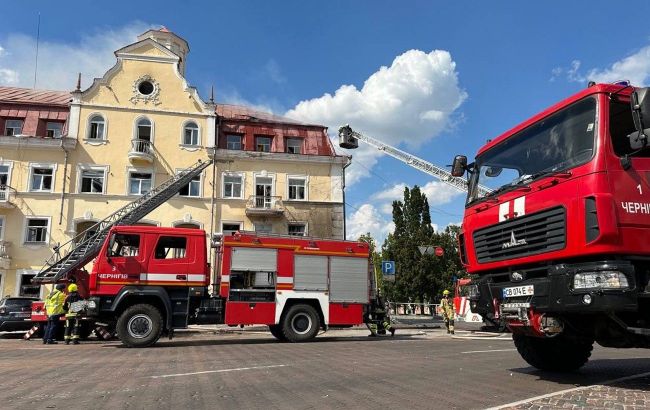 Shelling of Chernihiv (Photo: t.me/Klymenko_MVS)
The number of casualties from Russia's morning rocket strike on the center of Chernihiv has sharply increased. It is reported that another person has died, according to the Minister of Internal Affairs, Ihor Klymenko, on his Telegram channel.
"In Chernihiv, another victim's body has been discovered. An unidentified woman. The death toll has risen to 7," writes Klymenko.
The head of the Ministry of Internal Affairs adds that currently, there is information about 90 injured people, including:
10 law enforcement officers;
12 children;
25 people have been hospitalized.
"A 12-year-old girl is being urgently transported by ambulance to Kyiv. The child is in critical condition," the head of the Ministry of Internal Affairs added.
As a result of the shelling, a fire broke out on the roof of one of the buildings, which was promptly extinguished by firefighters.
Currently, 20 investigative-operational groups of the Chernihiv region police and 2 forensic laboratories are working at the scene.
Rocket strike on Chernihiv
In the morning, the enemy carried out another act of terrorism, launching an attack, presumably with a ballistic missile, on the center of Chernihiv. Some time after the shelling, the acting mayor, Oleksandr Lomak, stated that there were casualties and fatalities among civilians.
President Volodymyr Zelenskyy also responded to the attack. As by the country's leader notes, today's shelling is one of the reasons why Ukraine is uniting the world against the terrorist Russian Federation.
All the known details of the strike at the moment can be read at the provided link.