Assassination attempt on Deputy Head of Tax Service of Ukraine: two men are suspected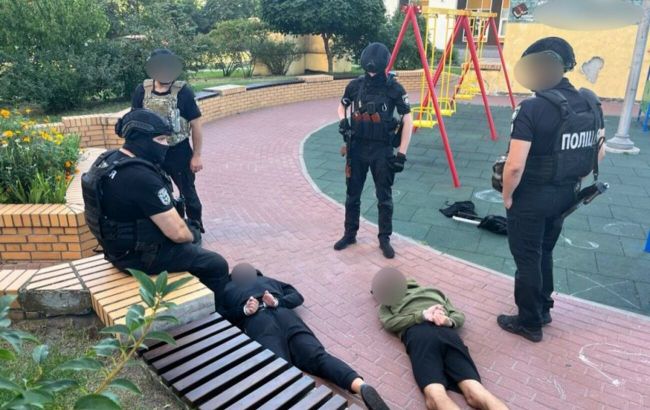 Men who planned to attack the deputy head of the Tax Service were detained (Photo: gp.gov.ua)
Prosecutors have announced the suspicion of two men in the case of an attempted attack on the Deputy Head of the State Tax Service, Yevhen Sokur. Preventive measures are being prepared for them, according to the press service of the Prosecutor General's Office.
As the investigation revealed, two previously convicted men traveled to Kyiv to carry out an "order" for an attack on the Deputy Head of the State Tax Service.
They rented accommodation near Sokur's residence and purchased a car and two baseball bats to accomplish this. The men secretly surveilled the official.
However, the criminal intentions of the men were preemptively discovered by the National Police of Ukraine's Criminal Investigation Department.
Law enforcement officials said the two men were waiting for the official near his house. After Sokur exited the entrance of the building, the perpetrators took baseball bats out of their bags and started approaching the official.
However, they were not allowed to "carry out the task to the end." The men were apprehended by law enforcement.
The Solomiansky District Prosecutor's Office of Kyiv has already been informed of the suspicion against the two men preparing for intentional grievous bodily harm to a citizen (Part 1 of Article 14, Part 2 of Article 121 of the Criminal Code of Ukraine).
The issue of choosing preventive measures for the suspects is being resolved. The identities of the individuals who ordered this attack are also being established.
What is known about the attempted attack?
Recall that this morning, the first to report an attempted attack on the Deputy Head of the State Tax Service, Yevhen Sokur, was the head of the Verkhovna Rada Committee on Finance, Tax, and Customs Policy, Danylo Hetmantsyev.
According to him, the incident occurred yesterday, August 17, in the city center of Kyiv, but the police supposedly requested not to disclose any information until morning.
He referred to the instigators as "scammers" who lost their "business" and added that the perpetrators had been detained and were providing evidence against the instigators.