Almost fighter aircraft: What can сombat Bayraktar Akinci do and when will it appear in Ukraine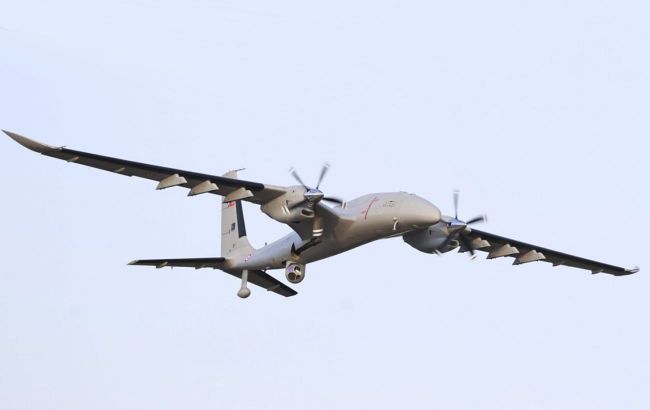 Ukrainian military could acquire the combat drone Bayraktar Akinci (Photo: baykartech.com)
The Ukrainian army may receive the Bayraktar Akinci drone from the Turkish company Baykar Makina. This time, it is most likely about localized production rather than a transfer.
For more details on Akinci, differences from Bayraktar TB2, and when our forces will receive the multi-role UAV, you can find in RBC-Ukraine material.
During the preparation of the material, statements from Baykar Makina's CEO, Haluk Bayraktar, representatives of the Ukrainian government, data from the OSINT project Oryx, and comments from experts of the Defense Express portal were used.
Will Ukraine receive Bayraktar Akinci? When and under what conditions
Last week, Baykar Makina's CEO, Haluk Bayraktar, hinted that the Ukrainian military could receive the latest drone.
"As for Bayraktar Akinci, the issue is under consideration, as far as I know. Ukrainian military personnel are well aware of what we produce and invest in. Therefore, our plan is to manufacture all the systems we have here (in Ukraine - Ed.)," he stated.
In June 2023, the Turkish government allowed for the production of Bayraktar TB2 and Akinci in Ukraine. According to Bayraktar, this demonstrates how close the parties are to implementing the project.
Photo: Baykar Makina CEO Haluk Bayraktar and Ukrainian President Volodymyr Zelenskyy (twitter.com/haluk)
In July, the construction of the plant began, which will last for a year and a half. In September, the CEO of Baykar Makina announced investments of $100 million. In addition to the plant, a whole technopark spanning 300,000 square meters will be established in the Kyiv region. More than 300 Ukrainian specialists, engineers, and technicians will work there. The production of the first drones is expected in 2025.
As for when the Ukrainian troops will receive Akinci specifically, it's hard to say. According to Ivan Kyrychevskyi, an expert from Defense Express Media, Akinci is a complex drone, and it's unlikely that Akinci will be rolled out immediately after the ribbon-cutting at the factory.
"It is evident that they will initially deploy production and roll out the first Bayraktar TB2s, and localizing Akinci will be the next step. It's logical to understand how many TB2s will be produced at our facilities and when to transition to Akinci," he told RBC-Ukraine.
In his opinion, there's currently no point in discussing the scale and volumes. There are also doubts about the transfer of ready-made drones to launch the factory.
"It's such a preliminary question that it's senseless to model when and under what conditions. Moreover, there have been no export deliveries of Akinci yet. There were some signals that Azerbaijan might be the first to receive it, but there's no confirmation yet. So, counting on the fact that we will simply receive a high-tech drone is not worth it," Kyrychevskyi added.
Key specifications
Bayraktar Akinci is a promising heavy strike UAV. Development began in 2018, a prototype was unveiled in 2019, it was accepted into the Turkish Air Force's arsenal by 2021, and serial production started in 2022.
Specifications
Fuselage length: 12.2 meters
Wingspan: 20 meters
Height: 4.1 meters
Maximum takeoff weight: 6,000 kg
Payload capacity: up to 1350 kg
Powerplant: two AI-450T engines
Flight duration: 24 hours
Service ceiling: 12,000 meters
The UAV has nine hardpoints: up to 450 kg on the internal and a total of up to 900 kg on 8 external hardpoints.
Oryx analysts highlight the most innovative aspect: the ability to carry air-to-air missiles such as Bozdogan IIR and Gökdogan BVRAAM, which operate on a fire-and-forget principle, as well as guided Roketsan Cirit missiles (with a range of 8 km). Another feature is the ability to launch cruise missiles like SOM (with a range of 275 km) to target command centers, air defense systems, bunkers, and other objectives.
In addition, Akıncı can deliver precision strikes with a wide range of munitions from the MAM, Kuzgun, Teber, LGK, KGK, and (L)HGK families. In simpler terms, it can use a broad range of JDAM-type munitions, which are bombs equipped with an aerodynamic kit and guided by laser, GPS, or combined guidance.
Differences from Bayraktar TB2
If the Bayraktar TB2 can be considered a lightweight unmanned combat aerial vehicle, the Akinci is a multifunctional unmanned bomber. It belongs to a fundamentally different class of aircraft that opens up entirely different capabilities, as explained by Defense Express expert Valerii Riabykh.
For example, the maximum takeoff weight of the TB2 is only 700 kg, with 150 kg of useful payload, including sensors in addition to munitions with a limited range of up to 30 km.
"Roughly speaking, out of these 150 kg, 50 are allocated to sensors, and 100 are for missiles - which is not much. In the case of Akıncı, its takeoff weight is 6,000 kg, and it can carry nearly one and a half tons on board. When you can carry 10 times more, you have more options for using it as a strike drone. It can take on some of the functions of multirole figher aircraft," he noted.
Photo: Bayraktar Akıncı is a heavy unmanned bomber (baykartech.com)
Both drones can stay in the air for a whole day, but Akıncı can climb to an altitude of up to 12 kilometers, theoretically making it easier to bypass enemy air defenses. Bayraktar TB2's sensors allow for aerial reconnaissance and target detection within a radius of 25 kilometers, providing target designation at distances of up to 15 kilometers. In this regard, Akıncı is equipped with a radar with an active phased array antenna, similar to combat aircraft.
"Modern technologies allow it to look hundreds of kilometers ahead already. This increases both reconnaissance capabilities and expands the range of tasks for the drone itself. It can track the location of air defense systems and observe them at long distances. Consequently, it allows for the use of long-range missiles. The same Turkish SOM missiles are designed in the style of the Storm Shadow," explained Riabykh.
Frontline bomber or Shahed fighter?
Expert Ivan Kyrychevskyi suggests that Akıncı could appear in Ukraine's arsenal in the near future, within a few years. Most likely, they will be used in addition to manned aviation.
"For example, dropping the same JDAM near the front line on Russian objects (if the war drags on to that extent - Ed.). Currently, MiG-29s are being used for this role," he noted in his conversation with the news agency,
In his opinion, the drone alone is insufficient to unlock its full potential. To use it to the maximum, appropriate armaments are needed.
"Will we be provided with long-range SOM missiles that can be mounted on Akıncı? American JDAMs are certainly provided, but it is a rather grim prospect to have such a complex bomber and only use aerial bombs," added the expert.
Valerii Riabykh points out that Ukraine has been looking towards such unmanned aircraft for a long time, and they are included in the development plan (vision) of the Air Force until 2035.
"In the plan, the creation of 4 UAV brigades was envisaged. More and more routine tasks related to the risks for manned aircraft will be transferred to drones. In this regard, they will act at the forefront, allowing us to maintain technological superiority on the battlefield," he explained.
Another option is to install Ukrainian components to transform Akinci into a radio-electronic warfare tool. Or enhance its reconnaissance functions using domestic phased array radars.
If Ukraine receives Cirit missiles with laser guidance, there will be a scenario of hunting Shaheds. Shooting them down from a drone is much more cost-effective than deploying fighter aircraft and launching more expensive missiles.
Furthermore, intercepting Shahed with fighter planes is not so simple. In October 2022, Ukraine lost a MiG-29 near Vinnytsia when the pilot destroyed five kamikaze drones, but fragments from one of them hit the cockpit, forcing the pilot to eject, and the aircraft crashed near the village of Turbiv.
"A jet fighter's speed is 4-5 times higher than that of a Shahed. It simply can't compete with it. The Shahed moves at a speed of 150-185 km/h, while the Akinci has a cruising speed of 277 km/h and a maximum of 360 km/h. So, it can work in tandem, get into a striking position, and shoot down the Shahed with a missile," Riabykh noted.
A Ukrainian trace in Akıncı
An important detail is that the Akıncı attack drone is equipped with engines of Ukrainian production. In the summer of 2019, the Ukrainian state company Ukrspecexport and Baykar Makina established a joint venture, and it was then that it became known about the transfer of two 450-horsepower AI-450T engines for the Turkish drone. Since then, in some sources, it is even referred to as Ukrainian-Turkish.
"We are moving towards developing cooperative relationships and technological capabilities. A significant part of this device is made up of Ukrainian components... We have a high-tech part, so there is an understanding that this drone can actually be manufactured in Ukraine," Valerii Riabykh emphasized.
The question that remains is the ability of Akıncı to operate in conditions of dense Russian air defense. Russians have already shot down Bayraktar TB2 drones, and a larger drone will be even more visible on radar.
Photo: Akıncı is equipped with Ukrainian engines (baykartech.com)
The declared practical ceiling is 12 km, and with the maximum payload, Akıncı reaches over 9 km in altitude. During some of the initial tests with a payload of 1,360 kg, the Ukrainian AI-450T engines lifted the drone to an altitude of 9,188 meters.
"I know that earlier, the option with the MS-500 engine from Motor Sich with a power of 750 horsepower was considered. It would allow reaching even higher altitudes, possibly up to 12 km with a full load," emphasized the expert.
Such an altitude would make Akıncı inaccessible to many Russian air defense systems. Not only to Strela-10 and Osa with engagement altitudes of up to 3.5 and 5 km, but also to Tor systems, which are limited to 10 km. As for the Pantsir-S1 with a claimed engagement range of 15 km, its capabilities have been questioned multiple times. Certain threats could come from Buk and S-300 systems, but long-range munitions would allow operating outside the engagement zones.
In any case, at this stage, Akıncı is only a prospective prototype. Ukraine will not receive or test it in combat mode in the coming months.
"To talk about the inadequacy of Russian air defense systems and claim they won't be able to shoot it down is unprofessional. Likewise, claiming that it will be shot down just like the Bayraktar TB2 is premature. So, discussing 'Akıncı vs. Russian air defense' at this stage is not appropriate," added Ivan Kyrychevskyi.