60 wounded in Kryvyi Rih due to Russian missile attack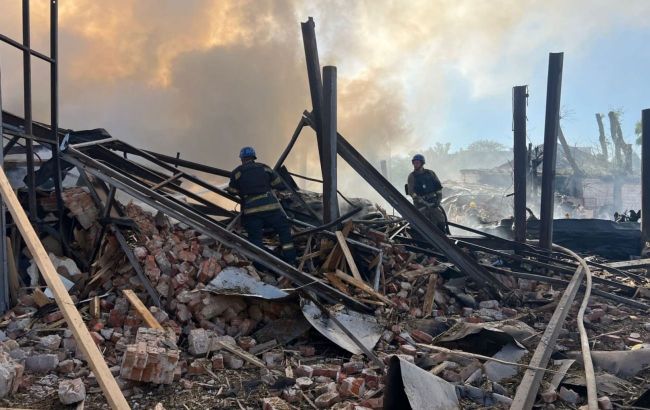 60 wounded in Kryvyi Rih due to Russian missile attack (Photo: t.me/dsns_telegram)
Even though the rescue operations at the site of the rocket attack in Kryvyi Rih have been completed, the number of injured has increased to 60 people, according to the State Emergency Service of Ukraine.
"As of 3:00 PM, as a result of the attack, one person was killed, and 60 people were injured," the statement said.
Rocket Attack on Kryvyi Rih
During an air raid alert on September 8, an explosion occurred in Kryvyi Rih, the Dnipropetrovsk region. Russian enemy's missile had struck, hitting a police department and the office of the Alexander Vilkul Foundation "Ukrainian Perspective."
Initial reports indicated that one person, a police officer, had died, and nine others were injured. Subsequently, the number of injured individuals began to rise. At the time of the completion of the rescue operation, there were reports of 54 wounded individuals and one fatality.
For more details on the rocket attack in Kryvyi Rih - in the material by RBC-Ukraine.
Attacks on Ukraine on September 8
Early on Friday, September 8, an explosion was reported in Sumy. Later, it was revealed that Russian forces had fired a missile at Sumy. The impact was recorded in a private sector area near Kozatskyi Avenue, destroying one of the buildings. Currently, there are reports of 4 injured individuals. Police also showed the first moments after the enemy attack on Sumy.
Furthermore, on the night of September 8, occupiers fired rockets at Zaporizhzhia. This marks the third shelling of the city in the last three days. One person was injured. According to State Emergency Service of Ukraine, methane tanks could have exploded due to the shelling of Zaporizhzhia on Friday, September 8, but emergency services managed to prevent it.
During the night, the Odesa region was also attacked by drones. Air defense forces successfully shot down 16 out of 20 enemy UAVs.