Ukraine will win back its original borders: interview with Chief of the Defense Intelligence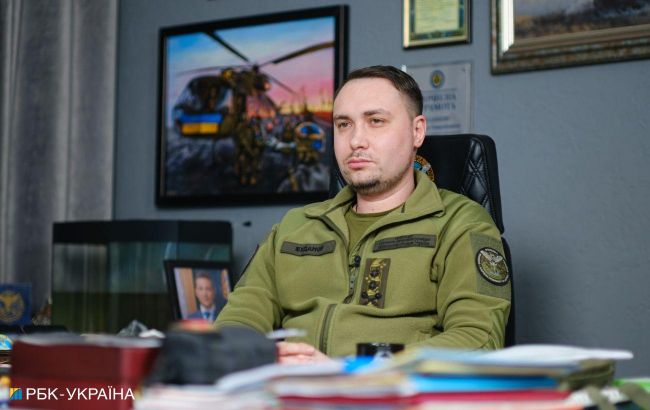 Chief of the Defence Intelligence of Ukraine Kyrylo Budanov (all photos: RBC-Ukraine, Vitaliy Nosach)
In a long interview with RBC-Ukraine, Chief of the Defense Intelligence of Ukraine Kyrylo Budanov spoke about the Ukrainian Armed Forces offensive, the situation in Bakhmut and Avdiivka, why Prigozhin (a Russian oligarch and a close confidant of Russian president Vladimir Putin - ed.) spoke about ending the war, whether a rebellion against Putin is possible in Russia, and much more.
Chief of the Defense Intelligence Directorate, Kyrylo Budanov, gained wide media exposure during the war. He was perhaps the only member of Ukraine's military leadership who, back in November 2021, predicted a large-scale invasion, including an attack on Kyiv.
Since then, many of the DIU (Defense Intelligence of Ukraine - ed.) chief's statements about further events at the frontlines and in Russia have come to pass in one way or another. Among them were the de-occupation of Kherson, the liberation of Zmiinyi (Snake Island), and the impossibility of creating a full-on blackout in our country. Budanov now believes that by the end of this year, Ukraine will be able to take back its state borders.
He does not seem to like it when his estimates are called "forecasts." He explains that his analyses are based on numbers. Budanov operated with them literally "off the top of his head" during our conversation, without looking at any reports or papers. He also often provided some historical parallels.
In this interview with RBC-Ukraine, the DIU chief explained what his optimistic conclusions about the imminent end of the war are based on, talks about Ukraine's offensive, the situation at the front, the discontent of Russian elites, and why Russia has taken a break with their massive missile attacks.
- In an interview with USA TODAY in early March, you said that this spring will be the decisive battle before the end of this war. Do the current conditions and the pace of Western weaponry supply make you reconsider your previous so-called forecasts and estimates?
- Absolutely not. Whether you like it or not, we are approaching a significant battle for the modern history of Ukraine. This is a fact, and everyone understands it. We don't know when it'll begin. But everyone understands that we are approaching it.
As for the volume and pace of supplies, of course, we would like to intensify and increase it. This is understandable given the current environment we are in. But we will proceed with what we have.
- The Ministry of Foreign Affairs, including Foreign Minister Dmytro Kuleba, says it is dangerous to call our upcoming offensive a decisive moment in this war, because our partners may make us try to negotiate if we do not achieve proper success. What do you think about it?

- Anything is possible. Will it happen? The fate of Ukraine is in the hands of Ukraine. It is up to us to decide whether or not we will do something. This is all I can tell you.
- Let's imagine another situation, just hypothetically. Is it possible that our Western allies will slow down or suspend the supply of military aid if we achieve limited success in this offensive? Is there such a risk?
- Theoretically, yes. Will this actually happen? I don't think so as of now. Besides, we still have something to fight with. We have been at war with this for more than a year, we're not fighting empty handed. Yes, we are quite dependent on the amount of foreign supplies. But if any of the countries (I don't think your question applies to all countries) decides to slow down, some other country will step in to replace it. We will look for options. But I don't think it will happen.
- Our preparations for a counteroffensive are already looking like a reality show. Everyone is discussing it - in the West, in Ukraine...
- That's why you also want to talk about it, right?
- Not really. On the contrary, I wanted to ask about the consequences of everyone discussing it. Doesn't this expectation, excessive attention and interest in when it will begin hinder the preparation of our offensive operation?
- I think it does a little bit. Not even that it hinders our counteroffensive, but it complicates it, so to speak. But there's a flipside to it. The way our society is being led towards the idea that we will soon launch an attack, free everyone, liberate everything, destroy our enemies, and so on - it also has an effect on the enemy. Their masses are watching all this. Just look at what's going on on their stupid social media pages - they're afraid, they're scared. So there are definitely pros and cons here.
- I liked how you used football terminology in your interview with Forbes two months ago...
- Let's just say it's the way they made that question. I'm actually not a big expert in football terminology, but they got me into that subject.
- You mentioned the 70th minute. That was two months ago...
- Let's put it this way: until all the events on the battlefield are over, it will be 72-75 minutes.
- So now you're saying 72-75 minutes, right?
- Yes.
- Will there be overtime and penalty shootouts?
- God only knows.
- I know you don't like it when your assessments and comments on the dynamics of events at the front are called forecasts. So I will put it this way. Share your conclusions, analysis and estimates for this year's military campaign. What can we expect? What tasks are achievable for our Ukrainian army at the front?
- I can't answer if I leave out what we started with? It's not acceptable to talk about the directions and content of our offensive operation with the press. It will be quite difficult to answer your question. I'll just say everyone is preparing. We will all witness the outcome after some time.
I think a lot of territories will be returned by force during this operation. I'll refrain from talking about directions and other details, sorry.
- Tell me, what kind of reaction can be expected from Russia after our entry into Crimea?
- Which Russia are you talking about?
- The Russian Federation.
- The Russian Federation is only a conditional federation. It was essentially a unitary state which has now become a kingdom. So what part of this kingdom are you curious to know about? The elite, the ruling element, the masses? The opinions of each of the above will differ a lot.
- Let's say Putin, Shoigu, and Gerasimov.
- The ruling elite?
- Yes, the military and political elite so to speak.
- It's hard to call them elite. Let's call it the military and political leadership. I can say it will be painful, but bearable.
- For them or for us?
- For them. If there's anything Russia is good at, their propaganda must be given credit. It hurts to admit it, but their propaganda machine has proven itself as immensely effective during the loss of Kherson. They presented their loss of Kherson, which was the greatest achievement of the so-called "special military operation," as a mere routine matter. And they twisted it in a way that it actually looked like it benefited them.
That is, they have it all worked out in advance. They already have a plan for covering the news during the events in Crimea, they are well known to us. And trust me, they will work for their society.
- I asked about this because the leading Western media, especially the American media...
- Don't even go there...
- You know what I'm going to ask, right?
- I think I have already answered your question. To those experts who say so, ask them this: how did they manage to show the loss of Kherson in such a way that no one even noticed it?
- Well, by justifying that it was a "forced move"...
- Well, this will also be a forced move and happiness pretty much. Believe me, they see their propaganda machine as a model there. They "fool" their population in a way that no one else in the world can.
- Will there be a nuclear strike if we enter Crimea?
- No, there won't be.
- Some people take your predictions as sedatives. Some consider them to be overconfident. Some of our interlocutors in the government from the political circle, some military officers not only do not share your optimism, they do not know where this optimism comes from. So people are curious: "What if not? What if it doesn't go the way Budanov says it will?" Do you ask yourself the same question: what if not?
- I have a different logic. Why do our estimates sometimes differ from what certain people or groups imagine? I'll answer with another question: what are they based on in the first place? I have an opportunity to open a binder, look at the numbers, dynamics, graphs, events, and classified information that people elsewhere can't provide you with. So I understand what is really happening, not just what I want or don't want to see. So my question is what do those people rely on to understand the situation?
- As far as I understand, on the way we see weapons being supplied, how reluctant our partners are to supply weapons...
- I'll ask you a question: who knows the real pace of arms deliveries? Those people do exist, but it is a very limited circle of people who are aware of not how little or a lot of something has arrived, but what a little or a lot actually means.
- So these are relative things?
- These are absolutely relative things.
- You are right that there are soldiers who are fighting in particular sections of the front, and the situation for them may look really bad.
- If it's bad where they are, they think it's bad everywhere. If they are in another part of the frontline with no shootings, taking a video saying "oh, we're gonna get 'em," then everything is well. And both of the above are absolutely relative things. This is okay.
It's not just our country, by the way. This is a totally normal reaction for any country during a military conflict. One perceives the world based on what happens where they are day in and day out.
- You confirmed one of your forecasts to your colleagues the other day, saying that everything is going according to schedule. It concerns our offensive operation and the entry into Crimea.
- It concerns our offensive operation and the return of our borders.
- You know what the problem is? We faced a similar situation about a year ago, when some speakers from the government made loud statements, yet then it all turned into memes about "2-3 weeks". It's just that overly high expectations that arise in society can lead to great disappointment.
- I'm telling you again: we need to rely on facts and numbers. The answers to any question (I was taught this once, and the more I work, the more I see that it is true) are to be found in the numbers. You just look at the numbers and see answers. All the "maybe it'll be this way" or "we see it this way" are nothing. Figures, facts, document numbers, dates - these have the answers.
- So you understand your responsibility for saying that we will enter Crimea by the summer, am I right?
- Look, according to the way things are supposed to go, everything will be done after all our borders are returned. I don't know why you are focusing so much on Crimea, but I can tell you straight up: Crimea is part of Ukraine's territory, and it all will not be over without the return of Crimea. No one will end it without Crimea, no matter how much they might want to.
- I am focusing on Crimea so much because, according to the estimates you have given, we should be entering Crimea some time soon, in summer. That's why everyone's attention is focused on it.
- We have to return our entire territory some time soon, over time. We still have time.
- Is Crimea the final frontier or not?
- If Crimea will be the last to be taken back, then it will be the end. If Crimea will be taken back, but Donbas will still not, it will not be the end then.
There is only one way to end this war - by returning our borders in any form. But it has to be our borders of the 1991 model. It is impossible to end this war without solving the territorial problems. Ukraine will never give up any part of its territories.
- Is it an achievable task for us this year?
- Absolutely.
- How would you assess the overall situation at the front and the successes and failures of the Russians so far?
- What are we to assess? Again, back to what we were talking about. What are we going to compare with?
- Let's compare to December of last year.
- As far as I remember, the only thing they've achieved since then is an advance in Soledar and fighting in the urban area in Bakhmut. That's it, that's all their achievements. Let's compare. If you bring a person from Ukraine to a map and ask them where Soledar is, not everyone will know where it is. If we're talking about the successes of the so called "second army in the world," they don't look good, let's put it this way.
- How would you assess Avdiivka?
- Avdiivka was simply wiped off the face of the earth, as was Bakhmut, by the way.
- Do I understand correctly that the attempt to capture Avdiivka from the north and south has already been stifled?
- This is a totally incorrect statement. The Russians have set the task before themselves (they have already failed twice and decided to go for it again) to captre the city of Avdiivka from the north. They were not even talking about coming from the south.
- They did not conduct offensive actions south of Avdiivka?
- The fighting south of Avdiivka has been going on since 2014. You see, the south of Avdiivka was very close to the demarcation line. So hostilities there have been going on for nine years.
- In the area of Opytne - Vodiane.
- This is below Avdiivka.
- Yes, I mean to the south of it.
- We are talking about Avdiivka now. Are you talking about the region or the city? Let's define the terms.
- South of the city.
- South of the city - yes, there were battles there.
- Did the battles stop there?
- These are localized actions. Just as I told you that not every Ukrainian can find Soledar on a map, I can also tell you with absolute certainty that only people who have been in contact with those territories can find Opytne and Vodiane on a map. What are we talking about? The "second army in the world" storming the village of Opytne? It's ridiculous.
- Bakhmut. In your opinion, why are they fighting for it so hard?
- This is the only place where they have some tactical success with huge losses. Against the backdrop of the lack of success elsewhere, they face the problem that even their "fooled" society needs to see something, some kind of win. This is the only place where they at least succeed a bit.
In addition, Prigozhin (a Russian oligarch and a close confidant of Russian president Vladimir Putin - ed.) once said that he would take Bakhmut. So he'd be happy to leave the city, but he can't. So everything just kind of came together.
- If we temporarily lose Bakhmut, how can this affect the overall situation?
- I will not comment on this. My ideology sees the loss of anything as bad.
- Vuhledar. We knew about at least two of their attempts to conduct some kind of offensive there. And we know how it ended.
- By the way, this is a very illustrative story, in all aspects - from who led the offensive to what they ended up with.
- Are there any signs that they are now preparing a third attempt at such an offensive?
- You are trying to get into military affairs, and this is a bit unnecessary. Is there a big threat of seizing the city? No, there's not. Let's leave out the rest of the details.
- Do you have any data or any reason to believe that the Russians are now preparing to intensify or launch offensive operations on some other parts of the front?
- I don't have any data, and they don't plan to. They have completely switched to positional defense everywhere. The only places on the frontline where they are making attempts are in the city of Bakhmut, an attempt to cover the city of Avdiivka from the north, and localized fighting in the city of Marinka. Both in Avdiivka and Marinka, their tactics are identical to those in Bakhmut - just an attempt to wipe the settlement off the face of the earth. The fighting in the forestry in the Luhansk region is already going down to the tactical level as well.
- Are you referring to the offensive actions - although it was mostly in the media that we heard about them - towards Lyman?
- If you look at the map and see where the fighting is happening in the direction of Lyman, you will be surprised to see that it is all taking place within the same forest.
- Yes, I know. Have these offensives actually stopped?
- Let's go back to what I told you. For talking about the "second army in the world", this is not a serious conversation at all.
- I also wanted to ask you about the situation in Belarus. Is there no threat of a second offensive on Kyiv from there?
- You know, I was so glad that no one had asked me this question for about six months. Because every time the degree of social tension rose, everyone came running to me, saying: "The Belarusians will attack tomorrow, what should we do?" I told everyone: "No, they are not attacking." They answered: "No, you don't understand." We had this conversation every time.


And here you are talking about it again. No, as of now, there are no threats from that direction.
- As long as Russia... although let's say Putin uses Belarus...
- As long as Russia uses Belarus, you said that correctly...
- ...to train its mobilized troops?
- Exclusively for that. And for some political pressure on Western countries. From a military point of view, it is a training ground for them. Russian training grounds do not allow the number of troops they have to be trained simultaneously.
- The Kremlin has reported that Putin allegedly visited our occupied territories in Kherson and Luhansk regions.
- Yes, I think it was the day before yesterday (the interview was recorded on April 19 - ed.).
- There was news that he had traveled to Mariupol prior to that. According to your information, did Putin really visit Ukrainian territories? Or was it his double? Or maybe it was Putin, but on the territory of Russia? Or maybe it was a double on the territory of Russia?
- It depends on what you consider Putin to be. It was a double in any case. This time, by the way, when Putin allegedly came to the south, as you said, they actually did a little bit of work, because every trip he makes has a certain protocol that they never violate. He has to be accompanied by a certain plane, a military-presidential flight board. This time they forgot about it. Fails happen.
- But still, did the double visit the occupied territories?
- Of course.
- What is the current situation with mobilization in Russia? As far as I understand, it is hidden, but it's happening?
- Yes, it is happening. They mobilize about 20,000 people a month - it is a generalized figure depending on the month.
- How many of these mobilized people have not yet been transferred to Ukraine?
- This is an interesting question. Out of the number of those officially drafted at the time, about 120,000 have not been transferred yet.
- That is, there are still many "mobics" on the territory of Russia or Belarus who have not yet been transferred to the front, did I understand you correctly?
- On the territory of Russia. Not all of them can be deployed, you have to understand that. There are losses, there is some ongoing work, someone has to do it. Since the losses are quite significant, this shortage must be compensated by someone.
A few days ago there was a great example. Russia has secretly (they won't talk about it) made a decision, and an order has already been issued, to withdraw the peacekeeping contingent from the region of the conflict between Azerbaijan and Armenia and replace the existing contingent with conscripts. That is, the contract soldiers are being withdrawn and the conscripts are being sent. Obviously, this is not because everything is going so well for them.
- Is there any tension between Russia's military, political and business elites over the war?
- Tension is absolutely not the right term. There is a misunderstanding.
- Contradictions?
- There are contradictions too. There are serious contradictions. But Russia is not a society where there will be any changes, unlike our country: you don't like something, you go out, say something, they answer you, and then they take it to the Maidan (the main square in Kyiv where all the revolutions took place - ed.). It doesn't work that way there.
- What can make Russians go out to protest against the government, if anything?
- Please take a look at the history of the Russian Empire and the Russian Federation at different stages of its history. Analyze what led people to riots, uprisings, and rallies against the government. In all cases, these were military defeats. And one of the very few cases is the case of 1993. It was based on slightly different principles. But nothing else can make them go against their government.
Military failures will lead to a search for the guilty ones. This will lead to other events. But the last thing we should do is hope for Russian people to come out and protest.
- As for the contradictions among Russia's elites. Is the number of supporters of a speedy end to the war against Ukraine increasing?
- Once again, it takes us to the beginning of our conversation. Which of the classes or strata of the population do you want me to evaluate?
- The military-political strata and those in business. For example, Patrushev, Naryshkin, Gerasimov, Shoigu, Gref...
- You will be very surprised if I tell you that not all of them were in favor of this invasion. This is a little-known fact, but it is true.
- Who was not in favor?
- It'd be easier to say who was.
- Go ahead.
- Only Shoigu spoke out, Gerasimov was in favor too. Bortnikov was the last one to stand against it, but two weeks before the start of it all, for some personal reasons, he abruptly changed his mind and said: "No, everything is fine, we are ready." And a few other functionaries. That was it.
- Do you know why he changed his mind?
- Of course I do.
- You won't tell me?
- It's not the right time. But many of them realized that this would end ugly.
- What are they going to do now if they see that Russia is just going to the dogs? Can't they do anything to stop it?
- This is a matter of surviving for them now.
- They are all connected, right?
- Let's dive into history again. There was an interesting case in the history of the Russian Empire - the loss of the Livonian War. Do you remember it? We don't have to go into it too much. They were going to Livonia. This is the time of Ivan the Terrible. And they failed, culturally speaking. This led to a search for the guilty. And the search for the guilty led to the emergence of the "oprichniki" (guardsmen of Russian Tsar Ivan the Terrible). I think everyone remembers what happened from then on.


By the way, what happened to them later is really interesting. So this whole situation now is again moving towards what I just described. If you read history, it will be quite interesting to see how things developed back then. It ended in mass terror inside the country, because they started looking for someone to blame. And then they just kind of got used to it.
- Do you think history repeats itself?
- It can't help but repeat itself.
- Recently, there was an article by Prigozhin (if he even was the one who wrote it) in which he advises the authorities and society to end the "special military operation."
- I saw it. He actually is quite politically correct in talking about the conflict. This is yet another statement that things are not going well for them.
- Is this his own initiative or is he relaying some certain sentiments in the Kremlin or perhaps Putin's own opinion, what do you think?
- Prigozhin is one of the new leaders, let's put it this way. Whether we like it or not, he relays the position of many people who are associated with him. These are quite influential people in the Russian leadership. The fact that the situation is bad for Russia is something we've talked about. It is bad for us, but it is also bad for them. It cannot go on forever. And they realize that it has become a matter of survival for them right now. If they start looking for the guilty, they will have to find them. Therefore, it is way easier to say that "everything is going according to the plan," "we have won," and then work it all out in some other way.
Do you see the paradox? No one can say what the goals are, what the purpose of a "special military operation" is. It does not exist. The fact that it does not exist gives you the power to announce at any time that the goal has been achieved.
- It is convenient.
- Very convenient. What is "denazification"? It's ridiculous. They can just say whenever they want: "Ukraine has been denazified." Just launch a few last-minute missiles at the Bandera monument in Lviv and that's it - "denazified." Convenient?
- Yes, very.
- And they can say, which they actually do: "Ukraine is our brotherly nation." You hear them saying this all the time. "They are our people, fraternal people, but they are under the influence of fascists." So it should be over with if the "fascists" disappear. This is a very specific aspect. But we must not forget that the propaganda machine will turn everything in the direction they want it to go at any time.
- Here's what I'm thinking about. Does Putin not accept his defeat in the war?..
- The propaganda machine, again. They always have a plan B in Russia. They will present any defeat as a victory. Remember Kherson.
- Yes, I remember.
- The only serious military achievement. The regional center. They lost it. And what? Nothing.
- What will happen when they are completely driven out of Ukraine?
- They will say that the goal has been achieved, "we gave the command to leave".
- "We beat everyone."
- "We destroyed all the fascists."
- "We demilitarized Ukraine."
- Absolutely.
- Do you think that the Russians will "eat it all up"?
- Oh they will, trust me, they will. If the leadership of their country makes such a decision, they will present it as a victory.
- You mentioned that riots started after military failures.
- Back then, there was no such propaganda machine. This is another very big difference. It's easier for the regime now than it was back then.
- If I understand correctly, you don't believe that even in the event of Russia's actual defeat, if we drive them out of our state borders, there could be some kind of revolt against Putin at the level of the elites?
- No, they have considered options for transferring power and have been considering them for more than a year, but they cannot come to any conclusion. Could there be a "palace" rebellion? Yes. But we will not see it.
At most, they will say that someone died of a heart attack, and someone was arrested because he turned out to be an agent of British intelligence, as it was in the 1930s, remember? This has all happened before. During the Livonian War, many were executed as agents of the Livonian state. This goes back to the Middle Ages.
- How can a rebellion against Putin go unnoticed?
- Let's just model the events with you here. For instance, a message will appear: "Mourning. Died in his sleep of a heart attack." And that's it, "The king is dead. Long live the king!"
- Are Russia's military and political elites already discussing candidates for his successor?
- Yes, they are.
- Who are they talking about?
- There is more than one candidate.
- You won't name them?
- No.
- You have already said that they have no goal as such in the war today...
- You know, at first I thought that this was some kind of a flaw, a mistake. Yes, the goal was initially to fully gain control of Ukraine. But then something had to be formulated. If they somehow formulated the military aspect for themselves, they had secret documents, but politically, for society, for the masses, they did not give anything clear enough. But over time, I realized they did the right thing. They were most likely considering all options, so they made themselves a fork in the road to be able to say at any time: "We have defeated everyone," "the goal has been achieved," "hurray, victory!"
- What was their goal when they first invaded Ukraine a year ago?
- I have already answered this question in many interviews. You really want to do it again? Be my guest. On the third day at the latest, enter the government quarter, raise either two flags - Russian and Ukrainian - and change the leadership, or just one Russian flag. By the way, they never fully developed this idea. And then, no later than on the tenth day after these three days, that is, on the thirteenth or fourteenth day of the full-scale invasion, suppress the local resistance, if there was any at all. They doubted there would be any resistance from the Ukrainian Armed Forces. That was the goal.
- What about their plans in a political sense? Did they want to occupy all of Ukraine or half of it?
- All of it. This is an operation to dismantle statehood.
- Did they want something like the revival of the Union?
- That was their ultimate goal. They still want it. But, "alas."
- I'm asking you about it because there was a lot of information that they wanted to get Yanukovych and then Medvedchuk from someplace.
- I'm telling you, they seriously had several options at once: to bring all those we got rid of here, and then play it by ear. They were quite hopeful about Medvedchuk (former leader of Ukraine's main pro-Russian political party - ed.), because he was a legitimate member of parliament. Unlike Yanukovych (4th president of Ukraine - ed.), who just said he was legitimate. Sivkovych (pro-Russian Ukrainian politician) played a big part, but he had no status.
- Do you know what Medvedchuk is doing in Russia now and why he is still alive there?
- I will refrain from answering this question.
- As it turned out, he must be of some value to Putin if he wanted to exchange him. Is he or isn't he?
- I have already said it. He is of very significant value to the Federal Security Service, because he has been working for them for years. The fact that he worked for them is one thing. Another thing is the money. He, his entourage, and those under his control were receiving some big money. If you think they value some human qualities or friendship - no, not the case.
- I certainly didn't think about human qualities. The fact that he is now appearing in Russian propaganda media...
- That's right. You see what is happening. They are using all the tools they can. They hope that something will work out. This, by the way, is also a totally normal approach. They are doing the right thing. Trying from all directions. Someone or something somewhere might bring success sometime.
- The fact that he appears in those media makes it look like he hasn't lost the Kremlin's favor?
- He cannot lose it because the situation has not fully been resolved, and it can only be resolved after it is officially over. This requires the return of our borders. And it will happen.
- You said he was valuable to the FSB (Federal Security Service) and managed significant amounts of money. It is clear that he failed in some part of his work, hasn't he?
- I can't say that he did a bad job. That's not true. His work was quite effective. The fact that he took a lot of money for himself is another thing. But was there a result? Yes, there was. Was it as successful as they had hoped (they wanted it to affect a large stratum of the pro-Russian population)? No, it wasn't. But we cannot say that it was ineffective.
- You have said that Russians believed that they would be welcomed here...
- Yes. This is exactly what I mentioned earlier, that Bortnikov (Russian intelligence officer who has served as the director of the Russian Federal Security Service (FSB)) was holding back until the very end, when two weeks before the invasion, he changed his mind and decided that everything would go well. He knew it didn't look good, but there were certain events that made him drastically change his mind. It also had to do with money and what it had been spent on for so many years.


For twenty years you have been writing that everything is going according to plan. Huge amounts of money are coming in. Then the Zero hour comes, and you say "we're not ready yet" - well, something must've been wrong.
- Fortunately, there have been no missile attacks for a month and a half. Is this a pause?
- It is. There is no conspiracy in this. My usual answer is numbers. But there is a flip side to it. Russia is also producing new missiles during this time. It is accumulating them to disrupt our offensive. That's what they hope for. Most of these missiles will be used during active hostilities. At the same time, they are building up their potential.
- We recorded an interview with Vadym Skibitskyi (Deputy Chief of the Defence Intelligence of Ukraine - ed.). He estimated that by the end of 2022, the Russians could produce up to 60 X-101 and Kalibr missiles.
- That's about right.
- He also said they are working to increase production.
- They are.
- As of today, do you have any data on how many they can produce per month?
- I do.
- Will you share it?
- No, I won't. The only thing I can tell you is that these numbers are insufficient for them.
- Insufficient for what?
- For intensive missile strikes. I will explain. Let's go back to history. The first missile strike - about 120 missiles in the salvo. The strikes were on Mondays, remember, there was even a meme? Then the number of missiles in the salvo was constantly decreasing, but the intensity was maintained. Then they began to increase the gap between the strikes. Then they began to increase the gap even more and reduce the number of missiles. They ended up coming down to almost nothing.
- Do you mean they reduced the number of precision missiles and increased the number of X-22s?
- First of all, they didn't use the X-22 much, because there are not as many of them as everyone thinks. Secondly, their condition is not very good. It's a liquid-propellant missile. It's a Soviet missile, and it's really good. It has proven to be much better than all the new stuff they are producing. But it has liquid fuel. And liquid fuel has certain limitations.
- In terms of range?
- Yes, as well as in terms of timing and actual use. If you suspend a missile with liquid fuel, you have to release it, you can't get back on with it. That's what the safety regulations say.
- You said they started to increase the intervals...
- When they came down to almost nothing, they had to stop. This is, by the way, one of the aspects that was unofficially, but kind of officially presented to Mr. Surovikin - that he brought the Russian Federation's missile arsenal to zero.
- Without achieving the desired goal.
- It was impossible to achieve. Many of their people saying that.
- Nevertheless, they tried.
- To say that this did not affect us much in the military and political sense - true. In the social sense though, people lived without electricity for a certain period of time. Is this good? No. Did it lead to a solution to the problem? No, it did not at all.
- Could it be that the power system was not the key target? I have heard expert opinions that their intention was to use up as much of our ammunition as possible, especially anti-missiles. And this could have launched their aircraft into our airspace. This is the opinion I heard from some people.
- It's absolute nonsense, and I'll explain why. Unfortunately, the Russian Federation has pretty decent data on what we had at the beginning of the war and what we have now. It's quite easy to do the math when you know how much you had and understand how much your enemy used. They simply couldn't come to that conclusion (to deplete our air defense system - ed.) because the number of missiles they had was less than the number of our anti-aircraft systems.
It's true that they have depleted our system quite a bit. There is no point in denying it. But this did not put our air defense system down. And it couldn't have, because the number of missiles from the Russian side was not enough. The answer is in the numbers, as always.
- You said that they are accumulating them now...
- They are accumulating them to disrupt our offensive.
- What are the targets?
- They will mostly be hitting the groups of troops that will be formed.
- Do you assume they may start massively shelling our energy system again next fall?
- Let's get to statistics. By the fall, they will have a certain number of missiles if they don't use any of them. It'll be less than what they used to launch during attacks, but it will still be significant enough. But that's not going to happen, because they are planning to use those missiles now.
- To what extent are they able to adapt their military-industrial complex to their needs?
- They have issues regarding that. We have to admit that they have adapted to war to some extent. They talk about import substitution, which is complete nonsense. They have another program they call "parallel imports," which is legalized smuggling. So import substitution is actually smuggling. This is how they survive.
- Do you have any data, signals, or indications that suggest that China is preparing or has already begun to transfer military aid and weapons to Russia?
- As of now, China has not transferred a single round of military aid to the Russian Federation.
- Is it preparing to?
- No, it is not.
- Do you think that China may do this in the near future?
- Not in the near future.
- Do you think that a prisoner exchange in the "all-for-all" format could happen? Last fall you said that this was being discussed?
- Yes, I can even say we are approaching this. Again, let's look at the numbers. As of now, more than 2,200 people have been exchanged (the number of people released from captivity by Ukraine - ed.). This is an unprecedented case in world history. No one has ever done anything like this. All exchanges usually take place after the end of hostilities and not during them.
- Are Russians or collaborators in the occupied Ukrainian territories trying to contact the Ukrainian side to ask for some kind of security guarantees in exchange for some kind of assistance or useful information?
- This is the issue of intelligence work. Are there any such cases? There are.
- Does Russia manage to expose our intelligence network?
- There?
- Yes.
- Unfortunately, there are such cases. No need to hide it.
- Attempts or successful cases on their part?
- We have our failures and our achievements.