Ukrainian Armed Forces has three bridgeheads for offensive on left bank of Kherson region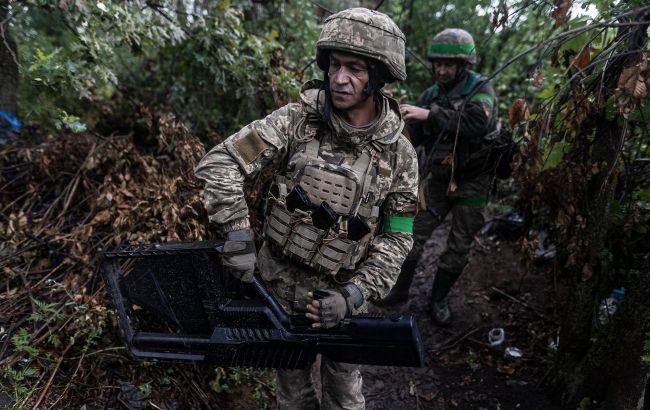 Photo: The Armed Forces of Ukraine have three bridgeheads on the left bank of the Kherson region (Getty Images)
The Ukrainian military can have three bridgeheads at once on the left bank of the Dnieper in the Kherson region. Experts suggest that we can probably expect good news from this direction of the front soon, according to an article by RBC-Ukraine.
Military expert Vladyslav Seleznov explains that the Armed Forces of Ukraine hold three bridgeheads at once between the Dnipro and the Konka Rivers. The first is in the area of Dachi and Antonivsky Bridge near the occupied Oleshky, which cannot be approached yet. The second is in the area of the railway bridge in the direction of the villages of Pishchanivka and Poima, and the third is on the group of islands from Kozachi Laheri to Krynky.
screenshot of deepstatemap.live
According to the expert, the Armed Forces of Ukraine use the river as a logistical route for the transfer of manpower, but so far without armored vehicles. But the enemy can't go by vehicles either, because the Konka River is in the way. Although the invaders have advantages in aviation.
"However, they still have an advantage in the aviation component, which means our Marines on the footholds will face significant challenges. Particularly, there's no opportunity to set up a pontoon bridge and ensure its constant operation. To achieve that, we need to expand the footholds even more and push back enemy artillery," explained Seleznov.
In turn, expert Oleksandr Musiienko believes that the Armed Forces of Ukraine have prospects in Krynky.
"The left bank of the Kherson region is well-suited to counter the Russian flanking attacks in the east. It's clear that our command understands this, and it's not unlikely that they are preparing for large-scale actions, including crossing the Dnipro and establishing a base for advancing into the enemy's rear," said Musiienko.
What preceded it
Earlier, ISW analysts reported that Ukrainian troops made some progress and pushed back the occupiers on the left bank of the Dnipro River in the Kherson region.
The network noted that the Armed Forces of Ukraine landed on the left bank of the Kherson region. At the same time, the spokeswoman of the Defense Forces of Southern Ukraine, Natalia Humeniuk, commenting on the situation on the left bank, said that there are good results in counter-battery fighting and "other methods".