Pokrovsk under shelling on August 7: Russian tactics behind it, explained by an expert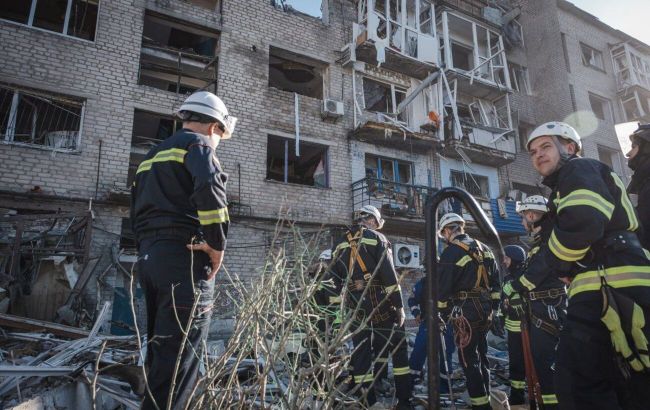 Pausing between missile strikes, as in Pokrovsk, is a Russian tactic (Photo: t.me/dsns_telegram)
The Russians employed a strategy of launching rockets towards Pokrovsk in Donetsk, pausing between two missile strikes in order to inflict maximum damage and casualties. This tactic, employed by the enemy, is not new for them.
This insight was shared by military expert Vladyslav Seleznov in a comment to RBC-Ukraine.
Strategy of double strikes
"This has become the practice of Russian occupying frces. Such patterns of using missile weaponry by Russians have been seen before. They carry out a missile barrage, then endure a pause, followed by a second strike, knowing that search and rescue efforts are already underway," the expert told.
In essence, this tactic from the aggressor nation is aimed at causing the greatest damage and killing as many Ukrainians as possible, including members of search and rescue teams, the interlocutor explains.
"The tactic being implemented by the Russian occupation army is that of missile terror. They targeted residential buildings where civilians reside, who have no connection to the Ukrainian Defense Forces. Similarly, the Russian Federation intentionally targets search and rescue personnel," Seleznov emphasized.
Missile attack on Pokrovsk
Yesterday, the Russian military shelled the center of Pokrovsk with Iskander missiles. According to local authorities, the first strike occurred at 19:15, followed by a second at 19:52.
Pavlo Kyrylenko, the head of the Donetsk Regional Military Administration, emphasized during a broadcast that this is Russia's tactic. The enemy delivers the first strike on civilians and the second on the services arriving at the scene.
Furthermore, he underscored that people were dispersed before the second strike. However, "had there been a gathering of people and if additional measures weren't taken within 10 minutes, the consequences would have been much worse."
As a result of the shelling, damage was sustained by nine- and five-story buildings, residential structures in private sectors, a hotel, dining establishments, shops, and administrative buildings.
According to the latest information, there were 7 fatalities due to yesterday's strike on Pokrovsk, with 88 wounded. The majority of them are civilians, but there are also rescuers and military personnel among them. Notably, Deputy Chief of the State Emergency Service of Ukraine in the Donetsk region, Andriy Omelchenko, lost his life.
Kharkiv region also suffers from shelling
The Russian army employs its tactic of double strikes during attacks on the Kharkiv region as well.
Yesterday, Russian forces shelled the Kupyansk district, dropping aerial bombs onto residential buildings in the village of Kruhliakivka. As rescuers and law enforcement arrived at the scene, Russia launched attacks on people using cluster munitions.
As a result, six buildings were damaged. Two individuals lost their lives – a 45-year-old woman and a 65-year-old man. Additionally, four people were injured and hospitalized. Another civilian, a 57-year-old woman, received assistance on-site.
Two employees of the State Emergency Service were also injured and hospitalized – aged 22 and 46 – as well as two National Police officers, aged 21 and 24.
Russia to continue terrorizing
According to an expert's opinion, the Russians will continue implementing their tactic of missile terror until the conclusion of a full-scale war.
"It's evident that they have certain gains from this. Let's recall last winter. The enemy, by using missiles, essentially destroyed a significant portion of our energy infrastructure. We all experienced what blackouts are like and the difficulties associated with power supply disruptions," Seleznov reminds.
According to him, the enemy might persist in using such terror tactics, as they possess resource capabilities.
"Their industry is operational. Representatives of the Ukrainian military leadership state that the Russian defense industry can produce up to 100 missiles per month. Accordingly, missile attacks using kamikaze drones will continue," the expert adds.