Russian airstrikes hit Kupiansk district, resulting in casualties and injured rescuers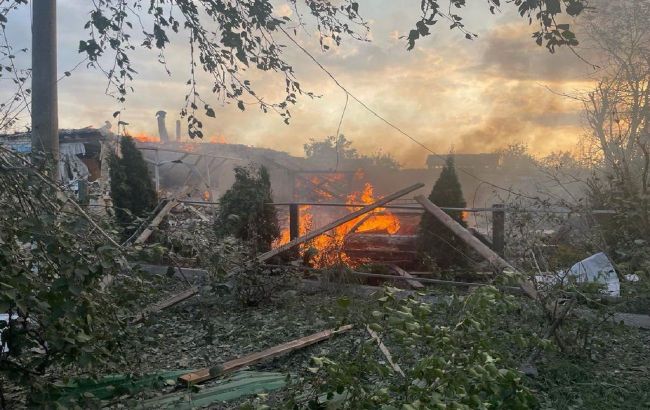 Consequences of the shelling of Krugliakivka (Photo: t.me/ermaka2022)
Today, on August 7, the Russians shelled the village of Kruhliakivka in the Kharkiv region with four guided aerial bombs. As a result, two people were killed, according to the head of the Office of the President of Ukraine, Andriy Yermak.
"They hit private houses. Five people were injured," Yermak added.
Information from the Ministry of Internal Affairs
The Minister of Internal Affairs of Ukraine, Ihor Klymenko, reported that as a result of the bomb strikes, a private house caught fire. A 45-year-old woman and a 65-year-old man had been killed. Two more civilians had been injured.
"When law enforcement officers and emergency personnel arrived at the site of impact, the enemy carried out a second attack with cluster munitions," the minister wrote.
According to his words, 2 rescuers from the State Emergency Service and a police investigator from the Kharkiv region were injured.
Information from the regional head
The head of the Kharkiv Regional State Administration, Oleh Syniuhubov, stated that 2 women and 2 men had been hospitalized in medical facilities. Another 62-year-old woman had received medical assistance on the spot.
"Private houses were destroyed and damaged, fires broke out. Emergency services are working on-site to eliminate the consequences," Syniuhubov added.
Shelling of Kupiansk district
According to Deputy Minister of Defense Hanna Maliar, during the past week, the occupiers attempted to regain control of the territories in the Kharkiv region that they had previously lost. This made the situation particularly intense in the Kupiansk direction.
Today, Russian occupiers shelled the village of Kucherivka in the Kharkiv region. Two people were killed, and three others were injured.