'War knows no age': The story of a 20-year-old machine gunner from the Bakhmut frontline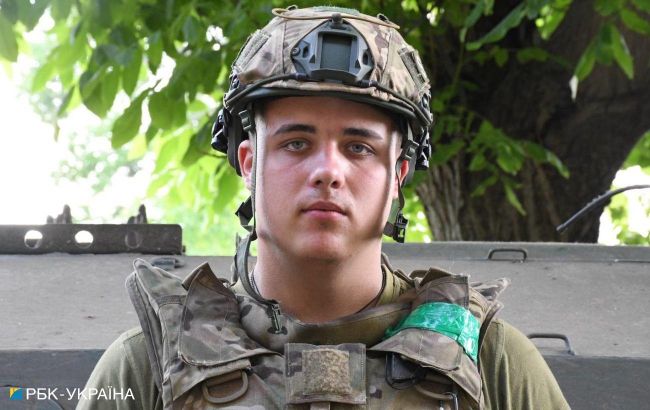 Oleh, call sign "Fil", near Bakhmut (Photo: RBC-Ukraine, Anastasiia Rokytna)
How a young soldier with the call sign "Fil" encountered the Russian invasion, why he joined the military, the hotspots he has already experienced, and what he dreams of after victory.
The defense of Bakhmut will enter the world history of warfare. Strong Ukrainian soldiers on this frontline defend their homeland and take the lives of tens of thousands of enemy soldiers. 20-year-old Oleh, call sign "Fil", is among these brave defenders. For a year now, he has been conquering the roads of Donbas, maneuvering around areas targeted by enemy artillery, traversing the stretch of road under enemy fire, and evacuating the bodies of fallen comrades.
Being on one of the hottest battlefronts, the soldier began fulfilling the duties of a machine gunner. The city where he and his comrades are stationed is under constant fire. In such conditions, they must not only survive but also bravely repel the enemy.
Fil told us about his choice, participation in battles for Kyiv and Kharkiv regions, as well as the defense of Bahmut, with RBC-Ukraine. Here is his firsthand account.
Morning of February 24th
I woke up in the morning to a loud sound of explosions. I immediately took my parents and rushed to evacuate them from the city, but the roads were congested, and the traffic jams made the journey nearly impossible. The only option left was to hide in the basement near our house.
When we arrived at the basement, we saw that it was already filled with people. Many young mothers held their children, while older people sat nearby. My friends and I prepared Molotov cocktails and decided to create barricades around the neighborhood.
I spent one night in the basement, listening to the cries of children and mothers. At that moment, something clicked inside me. I decided that I shouldn't be here, but rather go out to meet the enemy to protect these people. I made up my mind to go to the front, learned about one of the gathering points through acquaintances, and headed there.
Reaction of parents and other soldiers
The initial impressions of war were unclear - neither frightening nor exciting. The first combat clashes changed that. The commander advised me to return to my family because I was supposedly too young. But I stayed.
Regarding my parents' reaction, they were scared. They asked me why I needed it when there are adults who can handle it, people who have more strength and skills. I replied that I had already made up my mind. And I left.
Despite their worries, my parents believed in me. They hoped until the end that I wouldn't go. I signed a contract and went. Now, when I come back home, I constantly see the happy eyes of my parents. They say they feel proud.
Kyiv region and 'Zhuliany'
The first days of my service were filled with constant tension. We were in the vicinity of Kyiv at that time. It was the beginning of a full-scale war, often unclear who was who. There were cases where our own comrades attacked each other. Chaos and constant shootouts.
Then we started moving into populated areas: Irpin, Bucha, where we held the defense. Over time, we moved to hold the Kyiv airport, 'Zhuliany,' which was strategically important for the occupiers. The work there was under the constant threat of enemy airborne assault, as it happened in other locations. It was intense, with constant tasks, and adrenaline rushing. But I understood why I was there. It was for our future, both mine and the future of our children.
When I bonded with the guys, it became easier, and the work continued day after day. I somehow thought that victory was just around the corner. But it dragged on, the war persists, and it is very brutal.
Soldier with a call sign "Fil" near Bakhmut (Photo: RBC-Ukraine, Anastasiia Rokytna)
Kharkiv direction and trips to the border
Time has passed, and Kyiv has become quiet, the defense of this region has ended. We headed to the Kharkiv region. I don't remember the names of the settlements, there was a village near Kharkiv - our deployment site. We lived there for a long time and traveled from there to the Belgorod border. There were intense battles and constant shelling from tanks and mortars. It was very difficult.
During the first mortar and tank shelling by enemy forces on our positions, I felt a bit tense, and with each step, my willpower hardened, and I gained more strength and skills.
However, the hardest part was when we entered the field conditions. We entered the positions and started digging trenches. And it was at that moment that the Russians started shelling us with mortars. Chaos ensued. At that time, I was the driver, but we only had one vehicle. I spent the entire night transporting people, and then we had to go on foot because it was impossible to cross the field with a vehicle.
We walked about 20 kilometers to reach other positions, completely exhausted. But then we had to start digging. That's how we survived the first night, and the second night we endured, but on the third night, we had to retreat because it was very difficult, and we had no reinforcements.
But there were also good stories. Once, in the Kharkiv region, we seized Russian positions and took a bunch of ammunition: shells, mines, and grenades. It was a joyful moment for all of us because we didn't have as much weaponry as we would have liked. It felt like a Russian lend-lease, the guys joked.
Bakhmut direction
Now we are in the Bachmut direction. We arrived in the midst of serious battles and even visited Bachmut. I can't say which settlements we are in right now, but we are holding the defense. There are constant shelling and additional threats from the local population. Most people with a pro-Ukrainian stance have left, and those who remain are either those who have nowhere else to go or those who are waiting for the "Russian world." They are the ones who like to betray our positions.
They look into your eyes, even say some pleasant words, sometimes even in Ukrainian, and then you hear how they discuss us with their comrades, calling us "banderivtsi" (a pejorative term). It's unpleasant.
But we try to support the locals. They are not interested in the enemy; the Russians are hitting the houses of innocent people. There's no civilization here. Due to these shelling attacks, there is no water, heating, or food. So we share our food supplies and water. They are still our fellow citizens.
I can't provide details about our combat actions right now because there are ongoing processes that require silence. But during this time, I can say that I've seen many Russians who just walked into the city as if in droves, seemingly eager to die. These are the "Wagner" fighters, they recruited former prisoners and sent them "into action." When our soldiers got tired of killing them, they started sending in professional Russian soldiers. But they also came to an end, although it was more challenging.
My tasks are quite diverse. I performed tasks in the infantry, worked with equipment, and now I serve as a machine gunner on the MT-LB (multi-purpose towing vehicle light armored). Here, you have to learn quickly if you want to be useful and survive. War doesn't care about my age; it demands skills from me.
War and comrades
The war has left many painful memories. It was very difficult to transport the bodies of fallen comrades, especially those who stood shoulder to shoulder with me just yesterday. Every loss was heavy for the country, for the people, and personally for me.
Mostly my comrades support me, and I try to support them. They say that age doesn't matter, it's the skills that count. We have been through a lot together. And it is with them that I want to celebrate victory.
Soldier with a call sign "Fil" near Bakhmut (Photo: RBC-Ukraine, Anastasiia Rokytna)
For me, war is, first and foremost, a duty as a man to defend my country. Of course, it is a tremendous responsibility. Everyone wants to return home alive and well, but it is a debt to oneself and to a country. And most importantly, to our future.
The sooner the war ends, the sooner I will return home and fulfill my dreams: to create my own retreat where I can work, relax, and continue living. But for now, I am here, carrying out combat missions in a bulletproof vest and helmet.
I believe that soon we will completely liberate Donetsk, Luhansk, and reach Lastivchyne Hnizdo (in Yalta, Crimea - Ed.). Although war brings about many negative emotions, my comrades and I remain perseverant and devoted to our goal – to ensure peace and freedom for our country.