My war: Story of mother's unyielding strength raising a child with disabilities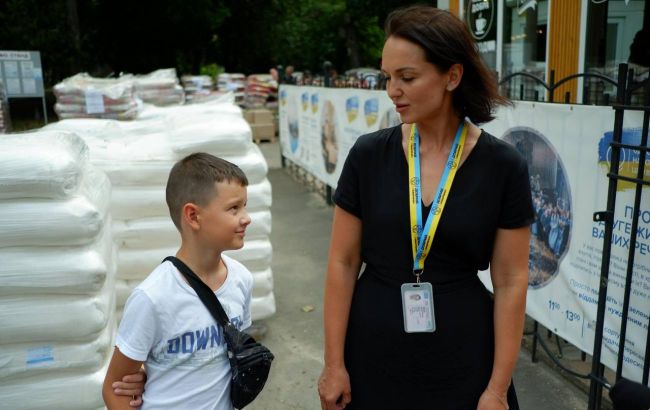 Photo: Mother Natalia and her son Artem (Anastasiia Bas)
The story of how the Terekhov family discovered their younger son's incurable diagnosis and how the mother became a support for other children with disabilities.
When an incurable illness strikes a family, it is terrifying. And even more so when it affects a child. Natalia Terekhova lives in Odesa. She learned about her son Artem's type 1 diabetes six years ago. At first, she was unsure how to cope, but she eventually found the strength to become a strong pillar of support for him and later for others as well.
Today, Natalia manages all the social projects of Odesa's oldest charity foundation, "Good Samaritan." She has been with the foundation for 26 out of its 30 years of existence. Despite the challenges, Natalia found the determination to work even harder and help hundreds of thousands of people, even during times of war.
In a special project "Women. Inclusion. War," Natalia shared her experience dealing with disabilities in Ukraine, her personal search for meaning, and the assistance she provides to others. Below are her own words.
"The key to the hearts of people with disabilities"
I remember receiving the test results showing my son's blood sugar was four times higher than normal. We rushed to the hospital for examination. At that moment, I didn't fully understand what was happening. My son was only two years old at the time, and he gradually lost his energy and started losing weight. We knew something was wrong and searched for answers, but we never expected this diagnosis. That night, I turned to God with the question, "Why my son?"
Photo: Natalia's son Artem (Anastasiia Bas)
I had been a volunteer at a charity foundation since I was 19. I believe in God, don't drink, don't smoke, and wish everyone well. So, why did my son get such a severe illness? This question haunted me for some time. But then I realized that God had given me the key to the hearts of families with disabled members. That's how my new phase in life began, with dozens of projects dedicated to disability issues.
My son Artem has been ill for 7 years now. He's involved in sports and music and attends school. He did well on the entrance exam for school, and we are looking forward to September 1st, although a bit anxious as he has never been in a class with 30 students. We hope everything will be fine, and his diagnosis won't hinder his socialization in the new environment.
"Cases of children's diabetes became more frequent with the arrival of occupiers"
The initial stage was very challenging, dividing life into "before" and "after." I realized that this disease required constant attention when the doctors informed me about the terrifying consequences and potential risks. It felt like the ground was slipping from under my feet.
We felt clueless about this disease. We had to gather our strength and quickly learn, practice, and administer injections. Sometimes, up to 10 shots a day. There was even a danger of miscalculating the insulin dosage.
Over these 7 years, we've learned through numerous difficulties. Now, I help others. We have a strong community where everyone supports newly diagnosed children. Unfortunately, with the arrival of Russian occupiers in cities and villages in our homeland, cases of children's diabetes became more frequent. The stress of war is extremely hard on children, even when they move to another country. Sleepless nights in corridors or bomb shelters become the norm. If a father serves in the military, the worry is constant.
Photo: Mother Natalia and her son Artem (Anastasiia Bas)
"He may say he ate, but forget it afterward. It may be a minor issue for regular kids, but for mine, it's a threat of coma and death"
Diabetes is a well-known disease, and now, due to the war, the number of people affected by it is increasing every day. Stress, lack of sleep, and proper nutrition contribute to this rise. Local hospitals openly admit that the number of diabetes cases is growing too rapidly. Dealing with this disease is relatively easier for adults, as they can check their blood sugar twice a day, but it's much more challenging with children. Children are very active, and this impacts their blood sugar levels.
Children can eat something uncontrollably at school, kindergarten, or with friends. Moreover, their bodies are still developing and changing, making it even more complicated. When I say complicated, I'm not exaggerating. My husband and I measure our child's blood sugar every hour - I do it during the day, and he wakes up at night to do it. If we don't catch a sugar spike in time, our child could fall into a coma.
What saves us is the sense of community, where we can talk to each other and share experiences. Currently, we have more than 300 such families, and we constantly communicate with one another. Unfortunately, changes at the state level are still very slow. Instead of proper evidence-based rehabilitation, they offer electrotherapy or mud baths (spoiler: they are not very effective).
It's also unfortunate that our Odesa region is not included in the list of those receiving sanatorium referrals, as we are already considered a recreational zone. I won't go into details about how we've been "relaxing" in recent years, but the children need peace and some rest to reduce their stress levels.
"I simply called all my friends abroad and asked them to send any medications"
In the first 10 days of the war in Odesa, all the pharmacies closed, and there was nothing available. So I decided to organize a humanitarian hub. Now, we are the city's humanitarian hub. But back then, we had many people to take care of, from young to old, who needed stable treatment. With the help of donors, we opened our own pharmacy. We sorted through packages, notified people about available medications, and insulin was particularly challenging, but we managed.
One day, I realized we had 120 volunteers. Each of them asked, "What can I do?" My husband took on the role of manager since he is good at organizing processes. I'm very grateful to him for always supporting me.
Currently, we have many tasks at hand. Our record is serving 1,500 visitors in a day. During the war, we provided medications worth 1,500,000 hryvnias. We sent eleven shipments of medication to Kherson and the occupied Nova Kakhovka. People with disabilities need special support until the territories are liberated.
"I am proud of how many good deeds we do"
Over the years, I have carried out hundreds of charitable projects. Currently, we have about ten ongoing projects. A special day for special children includes events for children and separate ones for parents. We arrange meetings for parents with psychologists and nutritionists, while for children, there were 41 locations this time. These are entirely different workshops, some teaching artificial respiration, while others focus on creating bouquets with florists. The project has been running for five years, and the people of Odesa love it.
Photo: Natalia cooperates with the "Residence of Goodness" project (Anastasiia Bas)
I remember when we organized a meeting for mothers of disabled children, and we all wore dresses. We received messages from various businesses offering to donate dresses to these mothers or provide ice cream. Our entrepreneurs love supporting social events, and it motivates and inspires all the volunteers. Mothers don't often talk about themselves and often hide their pain, so such events help them open up and socialize.
We have also been involved in ecological projects. The "Second Life of Your Things" project saved 2,500 tons of used clothing from being dumped in landfills. Instead, we delivered it to people who needed it. We provide a lot of humanitarian aid to children's institutions. They have many ongoing needs, and we continuously support them. We also assist vocational schools and various other initiatives. I am proud of how many good deeds we do.
"I dream that our city will change. That people will treat each other and nature with sensitivity. That we all prioritize the interests of our country over our own, and the authorities genuinely listen to the requests and problems of citizens."
Project prepared by the NGO "Epiprosita"
Text authors: Niia Nikel, Anastasiia Rokytna
Photographer: Anastasiia Bas
***
Natalia Terekhova, from Odesa, spends about 12,000 hryvnias per month on monitoring and insulin pump therapy for her son, which exceeds her salary. If you want to support Natalia and help her do more good for others, you can donate using the following details:
5363542093612217
Terekhov Oleksii