Hungary №2? Should Ukraine expect problems after Slovak election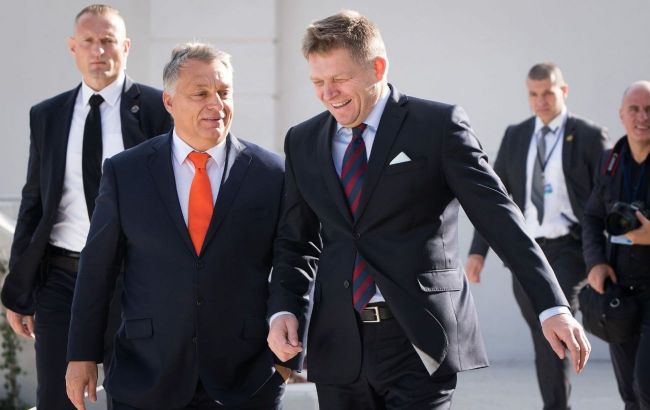 Photo: Prime Minister of Hungary Viktor Orban and former Prime Minister of Slovakia Robert Fico (Getty Images)
On September 30 Slovakia is having the parliamentary election. Thus, many questions arise, particularly, about who will win and form the parliamentary coalition, and what Ukraine should expect since there are strong pro-Russian sentiments in the country. Analysis by RBC-Ukraine.
Among all EU member states, Hungary has traditionally been the most problematic for Ukraine, and this became particularly evident during the full-scale Russian aggression. But soon the problems may double - if, following the results of tomorrow's parliamentary election in Slovakia, anti-Ukrainian forces come to power. In the run-up to the election, such a scenario seems most probable, although the intrigue is high.
Russian outpost
Slovakia, with 5.5 million population, which has never played a leading role on the European stage, stands out for its turbulent internal politics.
Since 2018, the country has seen five prime ministers come and go, with representatives from more than a dozen parties sitting in the 150-seat parliament (including two far-right parties often referred to as neo-Nazi/neo-fascist). In the upper echelons of Slovak politics, there are many eccentric figures with radical views. All of this is entangled in complex internal relations within the establishment, constant divisions, mutual accusations, widespread corruption, investigations, and criminal cases.
The start of the current political chaos was marked by the murder in 2018 of a local journalist, Jan Kuciak, and his fiancée. Kuciak was investigating corruption in the Slovak government, particularly links between the Italian mafia 'Ndrangheta and government circles, all the way to the top.
Following the high-profile murder, mass protests erupted in the country, and the government led by Robert Fico had to resign. Since then, stabilizing political life in Slovakia has proven elusive, and even the 2020 parliamentary election did not help. As a result, Fico, who headed the government from 2006-2010 and 2012-2018, is very close to returning to power. His party SMER-SD ("Direction") leads in most polls on the eve of the election, even though both Fico himself and many of his associates have been involved in corruption cases.
Robert Fico (Photo: Getty Images)
For Ukraine, this is very bad news. Even during his previous tenure, Fico had a distinctly pro-Russian stance, calling for the lifting of sanctions against Russia imposed for the occupation of Crimea. Now, in this regard, his views have become even more radical.
"This (war) started in 2014 when Ukrainian Nazis and fascists began killing Russian citizens in Donbas and Luhansk," Fico stated at a recent campaign rally. Such statements are not even made by Hungarian leader Viktor Orban, whom Fico is often compared to.
In practical terms, if Fico were to win the election, he promised to completely cut support to Ukraine and not provide us with "a single bullet." Slovakia has been a good military partner for Ukraine, even transferring 13 MiG-29 fighter jets.
And if resistance from one Orban is something that the leadership of the EU and NATO can often overcome, having two problematic EU and NATO countries will make it much harder to pass pro-Ukraine and anti-Russian decisions.
Certainly, Fico with his radically anti-Ukrainian views would not become a leader of popular support if those views were not shared by Slovak society. Indeed, sociology provides very troubling results.
Only 40% of Slovaks believe that Russia is to blame for the Russian-Ukrainian war. Only 58% of the country's inhabitants would vote to remain in NATO if a referendum were held now. "The population of Slovakia is the most pro-Russian in Central Europe and one of the most pro-Russian in the EU," says the GIS analytical center.
There are several reasons for this, primarily historical: ties to Russia, which is still perceived as the "liberator from fascism," Slavophile sentiments (where the Russian people play the role of the "elder brother"), and a very high level of conspiracy thinking among the population.
Russia has been actively using this last factor, turning Slovakia into an outpost for promoting its propaganda in Europe. As GIS points out, Slovakia has the highest number of pro-Russian media outlets and Facebook pages in the EU.
Pre-election debates on Slovak television (Photo: Getty Images)
The hyperactive Russian embassy in Bratislava posts more content on social media than the embassies of Russia in London, Paris, and Berlin combined. This has caught the attention of media outlets, social networks, and leading politicians. The leadership of Slovakia and the European Union, concerned about this situation, recently held meetings with representatives of major social media platforms and demanded a more active fight against fake information spreading in Slovakia.
Radicals, "ordinary people," and democrats
Although the left-populist party SMER-SD, led by Fico, tops the polls (20%, according to the Politico Poll of Polls aggregator), it will still have to form a coalition, likely with several partners.
The most dangerous scenario for Ukraine is if SMER aligns with right-wing radical anti-Ukrainian parties, including Republika and the Slovak National Party.
Republika is an ultra-right (considered by many observers to be neo-Nazi) political force that split from another neo-Nazi party, the People's Party Our Slovakia, led by Marian Kotleba. Kotleba was known for dressing in the military uniforms of Slovak collaborators during World War II, distributing aid to Slovak families in the amount of 1488 euros (a digital code for neo-Nazism and white supremacism), and gaining notoriety for other similar antics. However, he currently has no chance of being reelected to parliament.
Leader of Republika Milan Uhrík (Photo: Getty Images)
Republika is trying to present a somewhat more respectable image, but the party's past leaders continually catch up with them. For instance, one of the party's co-founders was previously the leader of the rock group White Resistance, and many of his associates were involved in similar collectives. Republika takes an anti-vaccination stance, has been involved in Holocaust denial scandals, advocates for ending assistance to Ukraine, and calls for Slovakia's withdrawal from NATO. Their rating is 8%.
The Slovak National Party, with a 6% rating, was founded over 30 years ago and has been involved in numerous scandals during its existence. For example, a previous leader of the party called for "pouring concrete over Hungarians" and announced a tank invasion of Budapest. The party is currently led by former Speaker of the Slovak Parliament, Andrej Danko, who openly sympathizes with Russia.
It's possible that SMER-SD, Republika, and SNP won't have enough mandates to form a majority in the Slovak parliament, and Fico will have to consider alternative coalitions. Due to the extreme toxicity of Republika, many other parties have already stated that they will not enter into any alliance with them.
Therefore, a somewhat "softer" coalition may be formed, where, in addition to Fico, the party HLAS (with a 13% rating) will be included. This party was created by his former ally and former Prime Minister Peter Pellegrini. It's also likely that one or several small parties of conservative, liberal, or left-centrist orientation will join this coalition. HLAS advocates for continuing aid to Ukraine and sanctions against Russia, making the coordination of foreign policy in such a potential alliance a challenging endeavor. Personal conflicts between Fico and Pellegrini should also be taken into account.
Leader of HLAS party Peter Pellegrini (Photo: Getty Images)
Finally, the possible and most optimal option for Ukraine is if Fico and his party remain in opposition altogether, and a coalition is formed around the pro-European party Progressive Slovakia, led by Michal Šimečka. In the run-up to the election, its support was around 18%, but the popularity trend had been rising in recent months, with PS even surpassing Fico's party in some opinion polls, albeit by a small margin.
If PS comes to power, one can be confident that Slovakia's support for Ukraine will remain (the party also advocates Ukraine's EU membership). However, to form a coalition, Šimečka will need an alliance with several smaller pro-European parties, many of which are currently on the verge of the electoral threshold (5% for parties, 7% for blocs).
Leader of Progressive Slovakia Michal Šimečka (Photo: Getty Images)
Currently, eight parties are making it to the Slovak parliament, with two more having a chance to overcome the threshold. In the highly competitive Slovak political landscape, everything changes rapidly. Just a few weeks ago, almost all analytical forecasts mentioned the party We Are Family of current speaker Boris Kollár as a potential coalition partner for Fico, even though it is formally conservative and, in essence, a leadership project of Kollár with no specific ideology. However, Kollár got involved in a series of scandals: he admitted to beating the mother of his two sons in 2011 (in total, the politician, who nominally upholds family values, has 15 children by 12 women, none of whom were his wives), and a photo of his joint vacation in Cuba with one of Slovakia's main criminal authorities surfaced on the internet. As a result, the rating of We Are Family dropped to 4%, although Kollár still has a chance to make it into parliament. Ukraine would also benefit from the Democrats party led by another former prime minister, Eduard Heger, passing the electoral threshold, as it currently falls short by about a percentage point.
Leader of We Are Family party Boris Kollár (Photo: Getty Images)
In any case, no matter how the election end, coalition negotiations will be extremely challenging. In the worst-case scenario, someone may try to win over the populist party OLANO (Ordinary People and Independent Personalities), led by another former prime minister, Igor Matovič, who had numerous conflicts with the rest of the political establishment during his time in office.
Nevertheless, the scenario in which Fico still ends up in the prime minister's seat remains the most likely. Considering his pre-election comments about Ukraine, this looks like a catastrophic scenario.
At the same time, as Reuters notes, "Fico's pragmatism during previous tenures, when he took Slovakia into the euro and largely avoided rows with EU and NATO partners, has tempered such concerns (about the Bratislava-Brussels conflict)." Moreover, the European Union has a very real means of influencing the Slovak government - financial leverage, which often helps tame Orban. But in any case, avoiding such a scenario is in Ukraine's best interest. Unity among European allies is critically important in the lead-up to the challenging year of 2024.