Be eliminated in Bakhmut - only 1 of the options, Russians have 2 more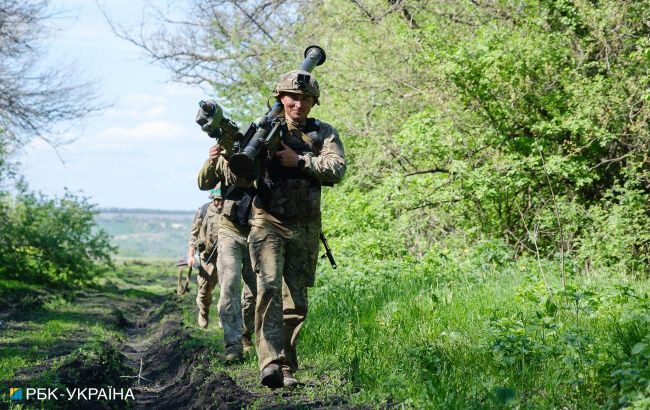 Ukranian soldiers (Photo: Vitalii Nosach - RBC-Ukraine)
Ukrainian defense forces continue to gradually encircle in Bakhmut. The Russian occupiers are left with three options, one of which is to be annihilated in the city, according to information provided by military experts in an article by RBC-Ukraine.
The Ukrainian forces continue to encircle Bakhmut, and the focus of the battles remains in the villages of Klischiivka and Kurdiumivka. In some areas, the military has advanced up to 1.5 kilometers to the east.
Deputy Minister of Defense, Hanna Maliar, mentioned that the Ukrainian forces have captured almost all dominant heights around Bakhmut. However, caution is exercised to avoid significant casualties.
According to military expert Oleksii Hetman, during the seizure of Bakhmut, there were 42 centimeters per person of "Wagner" mercenaries present. The Ukrainian Armed Forces are not planning to repeat the Russian "human wave" tactics and are avoiding direct frontal assaults. Instead, they aim to surround the city from the south and north by occupying strategic heights.
On the northern flank, battles are ongoing for the village of Berkhivka. The settlement lies in a lowland, and some heights are controlled by the Russian forces. The western part of the village is already in the gray zone and fully uncontrolled by any side. Additionally, it has been reported that the Russians were forced to retreat several kilometers northeast of Orikhovo-Vasylivka.
"Syrsky and Maliar have stated that Bakhmut has become a trap for the Russians, and all their logistical routes are under Ukrainian fire control. The Ukrainian assault groups will solidify their positions, and stronger military equipment will be deployed. The Russian forces will have three options: retreat, surrender, or be destroyed in the city," said Hetman
Tactically, aligning the front is necessary to push the enemy out of the positions they occupied during winter. This will enable further advancement by the Ukrainian Armed Forces and open the path to liberate Soledar in parallel.
According to Oleksandr Musiienko, the head of the Center for Military-Legal Research, pressing the Russians on the northern front of Bakhmut is a reasonable move if there are sufficient resources and equipment available.
"This is an absolutely correct step. As far as I understand, we are starting to act more intensively there. I believe that the idea of a flanking attack, in particular, involves advancing towards Soledar," explained Musiienko.
Front situation
According to the data from the General Staff, currently, the Russians are concentrating their main efforts in the Kupiansk, Lyman, Bakhmut, Avdiivka, and Mariupol directions.
As noted by the Institute for the Study of War, Ukrainian soldiers continue to actively advance in the Zaporizhzhia region, and near Bakhmut, they have captured almost all dominant heights.