Zelenskyy visits Ukrainian military in Bakhmut sector on September 5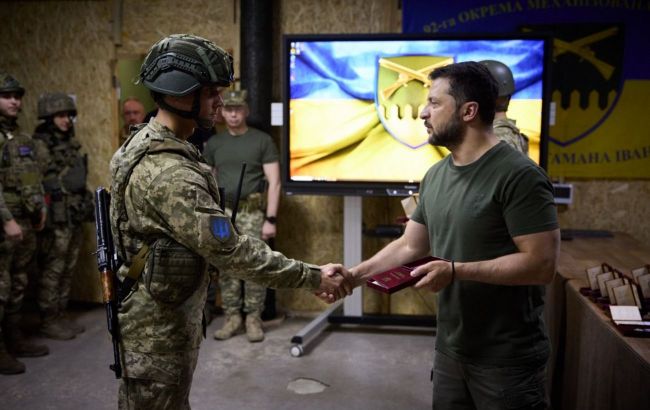 Ukrainian President Volodymyr Zelenskyy (Photo: president.gov.ua)
Ukrainian President Volodymyr Zelenskyy visited the combat brigades of Ukrainian troops involved in offensive operations in the Bahmut direction, according to the Office of the President.
Zelenskyy visited the location of the 93rd Separate Mechanized Brigade "Kholodnyi Yar" ("Cold Wind Ravine"), the 28th Separate Mechanized Brigade named after the Knights of the Winter Campaign, and the 92nd Separate Mechanized Brigade named after the ataman Ivan Sirko.
He met with the commander of the Land Forces of the Armed Forces of Ukraine the Commander of the Khortytsia operational and strategic group of troops, Oleksandr Syrskii. He received reports on the operational situation in the areas of responsibility of the Operational and Tactical Units "Liman" and "Soledar."
The President discussed problem areas and unit needs with the service members, including supplying artillery ammunition, missiles for frontline air defense systems, evacuation transport, and electronic warfare.
Zelenskyy noted that additional questions for the Staff of the Supreme Commander-in-Chief due to their discussions.
In addition, the President awarded soldiers who are part of the Joint Forces Operation "Khortytsia" with the Order of Bohdan Khmelnytsky I-III degrees, "For Courage" II-III degrees, and the Order of Princess Olga for their dedication to defending Ukraine's sovereignty and territorial integrity.
"I have the honor to be here today and thank you from the bottom of my heart, from the entire Ukrainian people, for your strength, for defending our state, our borders. For your lives that you, together with your comrades, sacrifice for every piece of our native independent land. Grateful for every day. I want to wish you health and victory," the President said during the award ceremony.
Zelenskyy's visits to the Donetsk region
The President has visited the Donetsk region multiple times, where active combat operations are ongoing.
Zelenskyy arrived in the Donetsk region yesterday. He spoke with the military about the supply of ammunition and weapons, including drones and anti-drone systems.
Before this, the President visited the Donetsk region on August 14. During that visit, he also met with soldiers from several brigades and sought to learn about each unit's specific problems.