Zelenskyy's spokeperson on CV-90 production in Ukraine: Desired date exists, but it's premature to discuss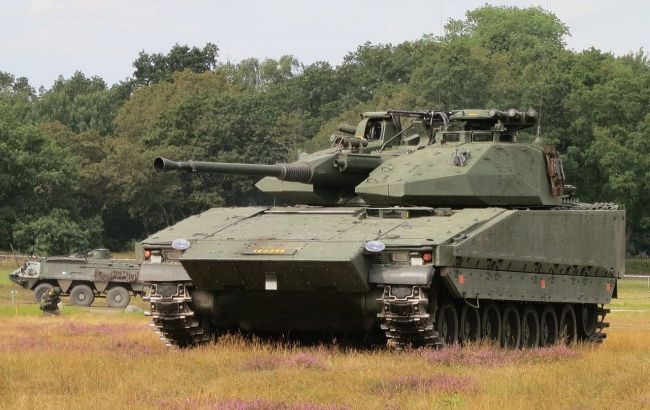 CV-90 (Photo: wikipedia)
Ukraine has signed a declaration of intent to launch the production of Swedish infantry fighting vehicles CV-90 in Ukraine. However, it's still too early to discuss specific dates, according to the Press Secretary of the President of Ukraine, Serhii Nykyforov.
"When will it be deployed? There's more specificity here, but I don't think I have the right to say that. Right now, a declaration of intent has been signed. Subsequently, specific agreements will be signed," Nykyforov stated.
He also mentions that there's a desired date for the first CV-90 to roll off the assembly line.
"But I'm not sure if it's appropriate to talk about it yet. There are still a number of documents to be signed in this direction," the President's Press Secretary said.
CV-90 IFVs in Ukraine
Ukrainian President Volodymyr Zelenskyy announced that Ukraine and Sweden had agreed on the production and maintenance of CV-90 infantry fighting vehicles on Ukrainian territory.
For their own CV 9040C IFVs, Sweden utilizes the AMAP armor module from the German company IBD Deisenroth Engineering. With an add-on armor kit (composite armor with ceramic elements), protection against 30mm armor-piercing fin-stabilized discarding-sabot (APFSDS) projectiles is provided for the CV 9040B and subsequent modifications.
The AMAP defensive kit includes passive armor modules for the hull and turret, anti-mine protection located on the underside of the hull, and anti-spall lining for the crew compartment.
In addition to passive protection, CV 9040C uses the Barracuda camouflage system, developed by the Swedish company Barracuda Company.