Zelenskyy on what could close the path to ruins in the Middle East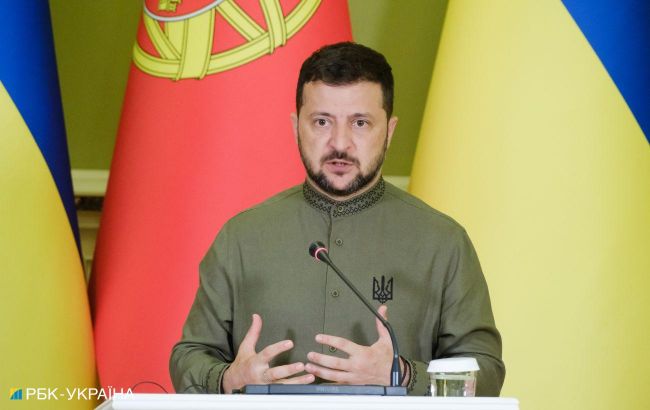 President of Ukraine Volodymyr Zelenskyy (Vitalii Nosach, RBC-Ukraine)
To prevent another escalation in Israel, finding a way to secure the release of hostages is imperative. Furthermore, it is essential to exert maximum efforts to avoid new crises and achieve Russia's defeat, said President of Ukraine Volodymyr Zelenskyy during his video address at the Crimea Platform.
"I urge all leaders to support the necessary efforts for the preservation of civilian lives, regardless of where they live, and the stabilization of the entire region. Without stability, it will be significantly more challenging to achieve peace in Europe. And in order to close the path to ruins in the Middle East, we must still find a way to free the hostages," he said.
Additionally, Zelenskyy emphasized that Russia's defeat is essential for the security of every nation accustomed to its freedom and relying on the world being a place free from aggression.
"We must all work together to prevent new crises from erupting in the world. This includes food, energy, or migration crises, among others. We must also ensure that existing confrontations do not spread to various regions. From this perspective, the outbreak of violence in the Middle East carries significant risks. Everyone can see the forces that could be engulfed by this outbreak, and everyone can see that it is worth avoiding. It can be avoided," the president underscored.
Situation in Israel
On October 7, Hamas militants from the Gaza Strip attacked the southern and central regions of Israel. During the attack, the terrorists took dozens of civilians and police officers hostage.
Previously, Israel's Minister of Energy, Israel Katz, said that the Gaza Strip would remain without water, electricity, and gas until Hamas terrorists released the hostages. In response, Hamas announced that they would release the captives if strikes on the Gaza Strip ceased. However, they claimed that not all hostages were under their control.
It has been reported today that two hostages have been successfully released.