Zelenskyy names main difference between wars in Israel and Ukraine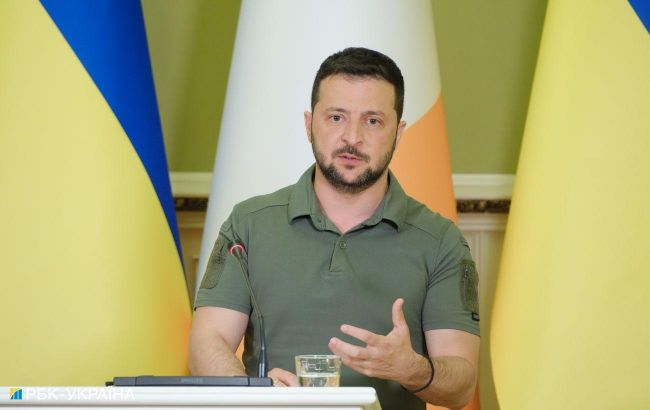 President of Ukraine Volodymyr Zelenskyy (Vitalii Nosach, RBC-Ukraine)
In a statement made during a plenary session of the NATO Parliamentary Assembly, Ukrainian President Volodymyr Zelenskyy drew a parallel between the ongoing war in Ukraine and the recent escalation of conflict between Israel and Palestine, highlighting one key difference.
"Both are tragedies, and the only difference is that there's a terrorist organization attacking Israel, while here, it's a terrorist state attacking Ukraine. Their declared intentions may differ, but the essence is the same... You can see it... You see the same blood in the streets. The same civilian cars riddled with bullets. The same bodies of people who have been brutalized," he said.
According to the president, the world's attention is currently focused on the Middle East, and "no one will ever forget what terrorists have done in Israel."
"Thousands of rockets fired at peaceful cities. People shot dead in their cars on the roads... Men, women, children... No one was spared. Streets soaked in blood. Hostages... The terrorists proudly shared videos of their atrocities. Women who were beaten. Elderly people abducted from their homes... Abducted children. And we still don't know how many people have been taken hostage and brutally taken away by the terrorists... They even tried to further degrade the killed individuals, mocking their bodies... We've seen all of this in Israel," the president described the situation in Israel.
He also said that even Israeli journalists who had been in Ukraine, particularly in Bucha, are now saying that they witnessed a similar kind of evil that Russia brought to Ukraine.
Situation in Israel
On October 7, Hamas terrorists infiltrated Israeli territory from the Gaza Strip, seizing several communities. Israel declared a "state of war" on its territory in response to this attack. According to the latest reports, approximately 700 people were killed in Israel. On October 8, Zelenskyy spoke with Israeli Prime Minister Benjamin Netanyahu amidst the Hamas attack, and today he called on the international community to unite in response.