Zelenskyy spoke with Netanyahu amid Israel's war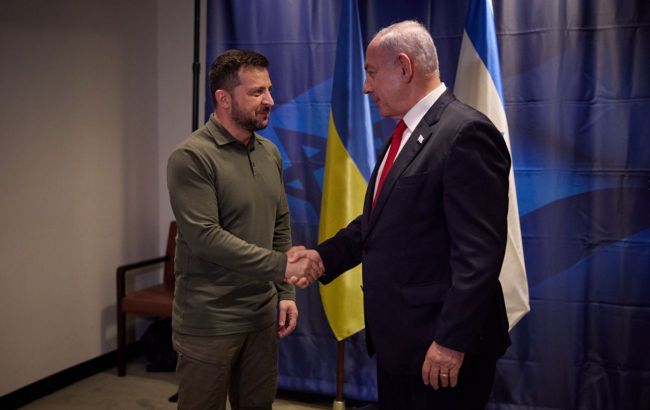 President of Ukraine Volodymyr Zelenskyy and Prime Minister of Israel Benjamin Netanyahu (photo: president.gov.ua)
Ukrainian President Volodymyr Zelenskyy held a conversation with the Prime Minister of Israel, Benjamin Netanyahu, against the backdrop of the HAMAS militants' attack, according to Netanyahu's office.
In addition to Zelenskyy, the Prime Minister of Israel held talks with the Chancellor of Germany, Olaf Scholz, the Prime Minister of Italy, Giorgia Meloni, and the Prime Minister of the United Kingdom, Rishi Sunak.
In a statement from Netanyahu's office, it is mentioned that all of them expressed support for Israel's right to defend itself "as necessary."
Zelenskyy provided details of his conversation with Netanyahu, noting that the Prime Minister briefed him on the situation in Israel and the actions of the armed forces and law enforcement agencies in repelling the attack.
"Solidarity with Israel, which is enduring a brazen large-scale attack, and condolences for the numerous casualties. Currently, cooperation between the Israeli police and Ukrainian diplomats on matters of security and the protection of Ukrainian citizens in Israel is of utmost importance," emphasized the President.
Zelenskyy also added that the politicians discussed the impact of the attack on Israel on the security situation both in the region and beyond its borders.
HAMAS attack on Israel
Yesterday, HAMAS militants launched an attack on Israel. Following a massive rocket barrage on the country, they infiltrated the territory of the small town of Sderot in the Southern district.
By evening, Israeli forces regained control of most of the territory and retaliated by striking military targets and the HAMAS headquarters.
Israel declared a "state of war" and the commencement of the counter-terrorism operation "Operation Iron Swords."
It should be noted that as a result of the HAMAS attack in Israel, at least 500 people have lost their lives.
Netanyahu stated that Israel has entered a long war, the first stage of which involves the elimination of the majority of terrorists who infiltrated the country.