Zelenskyy met with new British Foreign Secretary: What they discussed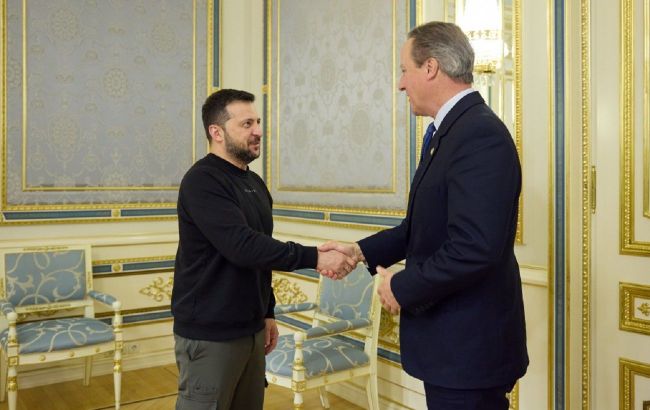 President of Ukraine Volodymyr Zelenskyy and Secretary of State for Foreign, Commonwealth and Development Affairs, David Cameron (Photo: (president.gov.ua)
Ukrainian President Volodymyr Zelensky met with the newly appointed Foreign Secretary of the United Kingdom, David Cameron, who made his first foreign working visit to Kyiv, according to the official online representation of the President of Ukraine.
The head of state thanked the British side for supporting Ukraine, which continues to repel Russia's large-scale military aggression.
"This is very important, especially now when the world pays attention not only to the battlefield in Ukraine. We are grateful for Ukraine's unwavering support from the United Kingdom. Thankful for the warm reception of Ukrainian citizens in Great Britain," said Zelenskyy.
The President praised the defense cooperation with Britain, which "allows the Armed Forces of Ukraine to defend against the aggression, including with long-range weapons effectively."
Zelenskyy emphasized that another important priority before the winter period is to strengthen the air defense system of the Armed Forces of Ukraine to protect citizens and critical infrastructure from the shelling of Russian occupiers.
What else was discussed?
During the meeting, the parties discussed the security situation in the Black Sea and the further work on the alternative grain corridor. London supports it, including financing the route and efforts to implement insurance for passing vessels.
"The interlocutors coordinated positions on the implementation of joint multilateral and bilateral initiatives, including in the context of advancing the Ukrainian formula for peace and working on security guarantees in the development of the Joint Declaration of Support for Ukraine adopted by the G7 at the Vilnius NATO Summit," the President's Office said.
They also discussed the issues of Ukraine's Euro-Atlantic integration and progress towards NATO membership.
Reshuffling in the UK government
On November 13, there were reshuffles in the government of the United Kingdom, and Prime Minister Rishi Sunak updated the composition of the Cabinet.
Thus, the former head of the British government, David Cameron, became the new Foreign Secretary.
James Cleverly, who previously headed the Foreign Ministry, was appointed the new head of the Ministry of Internal Affairs.
Suella Braverman, who recently found herself at the center of a scandal, was dismissed from the position of the head of the Ministry of Internal Affairs.
Jeremy Hunt, appointed Minister of Finance during the premiership of Liz Truss, retained his position.