Zelenskyy compares Putin to cancer: His actions may lead to World War III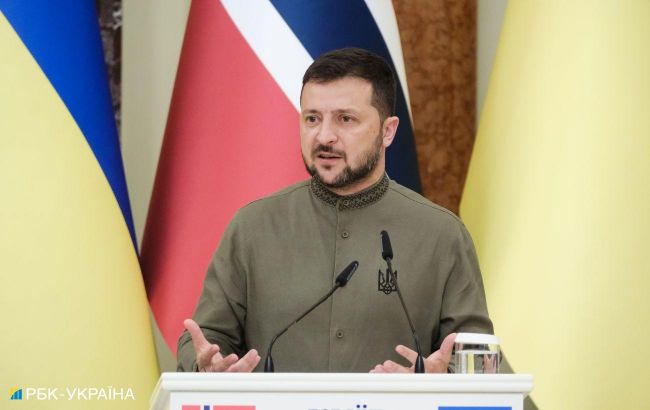 Photo: Volodymyr Zelenskyy, President of Ukraine (Vitalii Nosach/RBC-Ukraine)
Russian dictator Vladimir Putin has become synonymous with cancer, AIDS, and COVID. The steps he is currently taking inevitably lead to World War III, says President Volodymyr Zelenskyy in an interview with CBS.
"Putin is now in the same category as cancer, AIDS, and COVID. You must understand that if Russian society does not realize that this tragedy will be on their shoulders, it will be on their conscience. If they do not understand, then the world must unite and say," Zelenskyy says.
According to the President, Russia has powerful neighbors - very powerful countries in the world.
"I'm not talking about million-nation states; there are billion-nation states that simply need to tell him (Putin) 'Your actions are steps leading to World War III, and you will be the only one to blame for the World War III - one person, one disease'," the head of state added.
Zelenskyy reminded that war takes lives, although it is "not a natural disaster," "it is not a challenge, it is man-made."
"The tragedy created by Putin's hands in the world that takes the lives of innocent people. This is what countries of the world should pay attention to. This is the most important thing. Fight where nothing works, think, and engage the brains of smart and talented people from around the world where there is a challenge, where the planet may not exist, where life is being shortened. Defeat AIDS, defeat cancer, defeat COVID, defeat what is truly a tragedy. But, excuse me, where is COVID, and where is Putin?" he added.
Zelenskyy on Putin
Earlier, Ukrainian President Volodymyr Zelenskyy stated that after a full-scale invasion, Putin was "nobody" to him, and he was not ready to talk to a "maniac."
"Everyone was ready to accept that the end of the war should be with respect to our sovereignty, but still in the format of diplomacy. And then we went to Bucha and found mass graves. Who is ready to talk to this maniac?" he said.
In Zelenskyy's opinion, Putin is doing the same thing as Hitler.
"The ways of capturing Ukraine were the same as in Nazi Germany. He did everything the same, only he did not take Kyiv," Zelenskyy said to African media in July.