Zelenskyy announces evacuation of the first group of Ukrainians from Gaza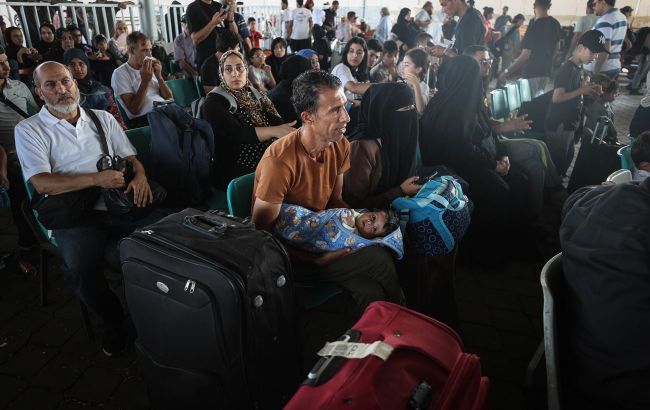 Photo: Ukraine evacuates the first group of its citizens from Gaza (Getty Images)
Ukraine has evacuated the first group of its citizens from the Gaza Strip. It includes 43 people, Volodymyr Zelenskyy wrote on his Twitter account.
"They are now safe in Egypt, where Ukrainian diplomats are providing them with the necessary assistance. We have also helped evacuate 36 citizens of Moldova, and we are glad to help our friendly neighbor," he said.
According to the President, the evacuation continues.
"Our embassies in Israel and Egypt, as well as other relevant agencies, are working hard to get more of our citizens out of Gaza," Zelenskyy added.
There is permission for further evacuation
According to Oleh Nikolenko, the Foreign Ministry spokesman, the next flight of evacuees to one of Ukraine's neighboring countries is currently being prepared.
"We are working on the evacuation of Ukrainians on November 8 and 9. We have received permission to depart for a new number of citizens," he said.
The speaker stated that given the limited capacity of the Rafah checkpoint, the evacuation is taking place exclusively within the limits of the lists of foreigners agreed upon by the local authorities involved.
Evacuation of Ukrainians from the Gaza Strip
According to Yevhen Korniychuk, Ukraine's Ambassador to Israel, there are about 357 Ukrainians in the Gaza Strip, but the number may be higher. Most of them are women and children.
On November 1, the Ministry of Foreign Affairs of Ukraine and all involved agencies began the preparatory stage of evacuating Ukrainians from the Gaza Strip through the Rafah crossing to Egypt. The list includes 358 people.
The first group of Ukrainians was allowed to evacuate from Gaza on November 7. Initially, it was 101 citizens. The evacuation will last for several days.