Yemeni rebels shoot down U.S. military drone - BBC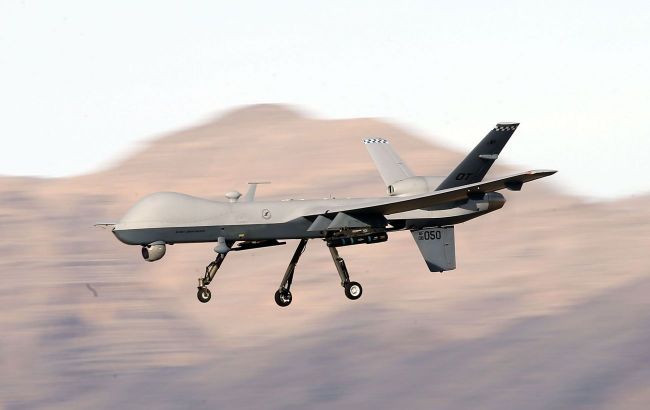 American MQ-9 military drone (Getty Images)
Yemeni Houthi rebels, supported by Iran, shot down an American MQ-9 military drone, reports BBC.
According to a U.S. official, the drone was downed near the Yemeni coast by Houthi forces. A military representative of the Houthi confirmed the information.
U.S. is preparing for escalation in the Middle East
The incident comes amid heightened tensions in the Middle East, with the U.S. on alert for potential actions by proxy forces and groups supported by Iran, while Israel conducting military operations against Hamas militants in the Gaza Strip.
In October, a U.S. military ship intercepted cruise missiles and several drones launched by the Houthis from Yemen towards Israel. The U.S. responded to regional tensions by deploying forces to the Middle East, including aircraft carriers, marine infantry, and sending ships with troops to the Red Sea, located between Yemen and Israel.
Yemeni Houthi rebels, backed by Tehran, have been locked in a prolonged civil war with the country's official government since 2014.
Attacks on American military bases and retaliation
Yesterday, on November 8, the U.S. announced strikes on an eastern Syria target used by the Iranian Islamic Revolutionary Guard Corps and its affiliated groups. According to a Pentagon representative, these strikes were in response to attacks on U.S. forces in Iraq and Syria.
In late October, the U.S. Department of Defense stated that U.S. military bases in Iraq and Syria had been attacked over 20 times. These attacks were linked to Israel's war with Hamas, leading to increased tensions in the Middle East. Iran supports Hamas and responds to U.S. military aid to Israel.
According to the Institute for the Study of War, as of November 7, Iranian proxies have attacked U.S. bases in the Middle East nearly 40 times.
Earlier reports indicated that the U.S. was deploying drones over the Gaza Strip to search for hostages captured by Hamas militants.