Xi Jinping and Putin declare Belt and Road Initiative as Western world order alternative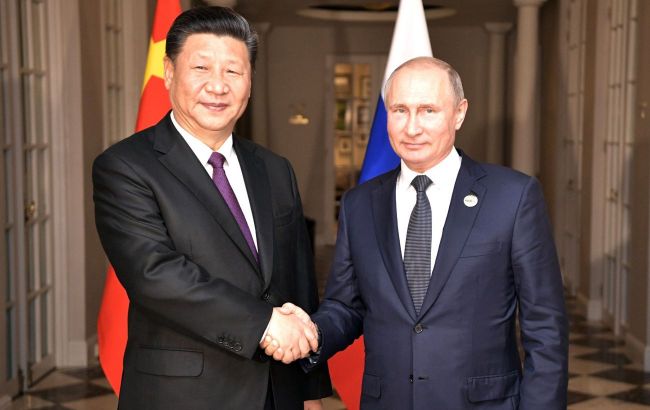 Putin and Xi are ready to fight against Western democracies (Photo: Getty Images)
Chinese President Xi Jinping presented his Belt and Road Initiative as a radical alternative to the world order led by the United States. Russian President Vladimir Putin supported this statement, according to Bloomberg.
In his speech in Beijing dedicated to the 10th anniversary of China's global infrastructure project, Xi criticized unilateral sanctions, geopolitical rivalry, and bloc politics. Although he did not name any country, these remarks were explicit references to U.S. policy towards China in recent years, characterized by Washington as risk reduction but seen by Beijing as an attempt to hinder its growing power.
As the saying goes, when you give roses to others, fragrance lingers on your hand," Xi Jinping said. "In other words, helping others is also helping oneself. Viewing others' development as a threat or taking economic interdependence as a risk will not make one's own life better or speed up one's development."
Speaking immediately after Xi, Putin praised this initiative as aligning with Russia's goal of building an alternative world order.
"Russia and China, like most countries of the world, share the aspiration for equal and mutually beneficial cooperation in order to achieve universal sustainable and long-term economic progress and social well-being while respecting the diversity of civilization and the right of each state to its own development model," said the President of Russia.
The Chinese idea of Belt and Road logically fits into multilateral efforts to strengthen creative and constructive interaction," he says.
Statements at the Belt and Road Forum opening ceremony indicate China and Russia's intention to reach out to developing economies, the so-called Global South, covering South America, Africa, and Southeast Asia. The U.S. and its allies urge these countries to support an order based on rules, allowing them to unite on issues such as supporting Ukraine in resisting Putin's invasion.
Belt and Road Initiative
The Belt and Road Initiative has become a hotspot between China and the West. Italy, the only G7 member to sign an official cooperation agreement with Beijing, has indicated its intention to withdraw from it by the end of the year. Nevertheless, Xi, as before, considers the program attractive for developing countries that can use China's money and do not see the need to take a particular position on issues such as human rights and territorial sovereignty.
For Putin, this is a rare trip abroad after the International Criminal Court issued an arrest warrant for him in March for war crimes in Ukraine. His visit supports the Belt and Road Initiative and emphasizes Moscow's close ties with Beijing.
Beijing has provided diplomatic and economic support to Russia, helping to mitigate the consequences of Western sanctions for Moscow. Putin's visit demonstrates support for the Belt and Road Initiative and emphasizes Moscow's close ties with Beijing.
Xi Jinping called Belt and Road a foolproof decision for China and the participating countries. He says over 150 countries and over 30 international organizations have signed cooperation agreements.
In an official document published earlier this month, Beijing called this initiative an alternative to the prevailing global economic model, which is "dominated by a few countries," positioning itself as a developing world leader.
However, fewer foreign leaders attended the forum in the West compared to the two previous summits in 2017 and 2019, indicating diminished interest in the initiative. Participants include Indonesian President Joko Widodo, Hungarian Prime Minister Viktor Orban, Egyptian Prime Minister Mostafa Madbouly, Kenyan President William Ruto, and Chilean President Gabriel Boric.
Xi Jinping and Putin held talks on the sidelines of the forum. The Chinese leader stated that political mutual trust between the two countries continues to deepen, and bilateral trade volume has reached a record level.
"In the 10 years since 2013, Mr. President and I have met 42 times and established a good working relationship and a profound friendship," said Xi Jinping. China is willing to work with Russia to "safeguard international fairness and justice and contribute to the common development of the world."