World Bank to collect over $8 billion for Ukraine, PM says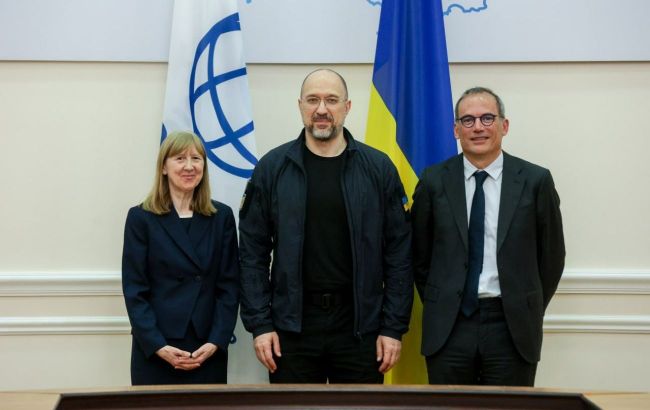 World Bank represantatives and Ukraine's Prime Minister Denys Shmyhal (t.me/Denys_Smyhal)
The World Bank Group has announced plans to mobilize more than $8 billion to support new programs in Ukraine, particularly in agriculture and social policies, according to Ukraine's Prime Minister Denys Shmyhal.
During a meeting with World Bank Vice President Antonella Bassani and International Finance Corporation Vice President Alfonso Garcia Mora, Shmyhal disclosed that the funding was discussed and approved today.
He also said that they discussed the preparation of an updated assessment of Ukraine's recovery needs (RDNA3), which will include damages caused by the Russia-destroyed Kakhovka Hydroelectric Power Plant.
According to Shmyhal, the International Finance Corporation is preparing a program to support small and medium-sized businesses in Ukraine.
"I hailed the resumption of the work Kyiv offices. We appreciate our joint work at the Multidonor Financial Platform. We are grateful for the constant and important help and look forward to further close cooperation with the World Bank team for the sake of supporting Ukrainians," he emphasized.
World Bank and Ukraine
On June 19, Ukrainian President Volodymyr Zelenskyy had a phone conversation with World Bank President Ajay Banga, discussing future collaboration. On the same day, it was reported that Ukraine received over 60 million euros from the World Bank for teacher payments.
In early May, Ukraine received 190 million euros from the World Bank for civil servant and teacher salaries.
In March, the World Bank estimated that Ukraine's economic recovery following Russia's invasion would cost $411 billion, which is 2.6 times exceeding the expected GDP of Ukraine in 2022.
Today Schmyhal said that Ukraine will receive a $1.5 billion loan from the World Bank with guarantees from the government of Japan.