Western countries plan to increase arms production in Ukraine - NYT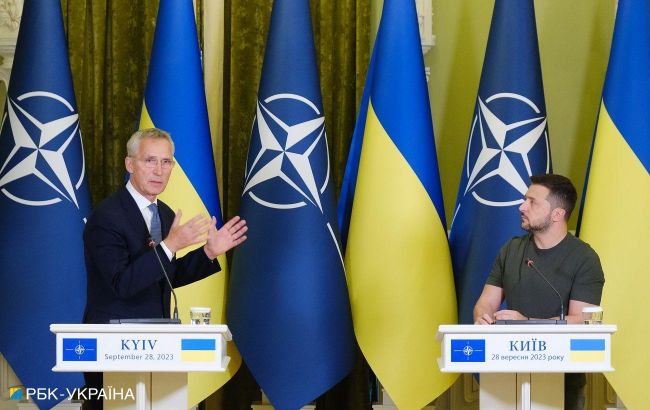 NATO Secretary-General Jens Stoltenberg and Ukrainian President Volodymyr Zelenskyy (Photo: RBC-Ukraine, Vitalii Nosach)
Western countries plan to increase arms production in Ukraine. Such expansion of the domestic military industry is economically advantageous for both Ukraine and global arms manufacturers, according to The New York Times.
The agency notes that yesterday's unexpected visit to Kyiv by NATO Secretary General Jens Stoltenberg and the defense ministers of the United Kingdom and France, Grant Shapps and Sébastien Lecornu, is related to plans to expand arms production in Ukraine.
"It will be an important opportunity for Ukrainian companies to forge new partnerships with the industry across the alliance and beyond," Jens Stoltenberg, the NATO secretary general, said at a news conference with President Volodymyr Zelenskyy of Ukraine on Thursday. "The stronger Ukraine becomes, the closer we come to ending Russia's aggression," said the NATO Secretary-General at a press conference with Ukrainian President Volodymyr Zelenskyy.
NATO member officials consider the expansion of Ukraine's military industry as a potentially beneficial prospect for Western arms manufacturers, albeit risky due to ongoing missile and drone attacks from Russia.
The article also notes that the visits of the defense ministers of the U.K. and France, as well as the NATO Secretary-General, took place a day before an international military contractors' forum convened by the Ukrainian government to attract companies to develop the industrial potential for the production and repair of arms in Ukraine.
According to the Minister of Foreign Affairs Dmytro Kuleba, representatives of 165 companies from 26 countries will gather at the event.
Western arms supply to Ukraine and joint production
At this time, Western countries may face difficulties in fulfilling their commitments to Ukraine regarding arms supplies, especially artillery ammunition. This is because partners are depleting their stocks faster than they can be replenished.
The defense industry is trying to reequip and find adequate materials to ramp up production to total capacity.
Earlier, the U.S. military signed contracts with companies to build two new production lines for artillery shells and another for filling them with explosives.
After a meeting last week with U.S. President Joe Biden, Ukrainian President Volodymyr Zelenskyy stated that he had entered into a "long-term agreement" with the United States for joint arms production. The White House reported that the U.S. leader's administration would hold a conference "to explore options for creating joint ventures and production."
During a conference with Ukrainian President Volodymyr Zelenskyy in Kyiv on September 28, Stoltenberg stated that NATO has signed framework contracts to purchase ammunition totaling 2.4 billion euros. Thus, Alliance member countries are replenishing their stocks, some of which go to assist Ukraine.
On September 28, it became known that the German Federal Antimonopoly Office allowed Rheinmetall to establish a joint venture with Ukraine.