'War of forecasts'. How close is Ukraine to victory: What the West and experts say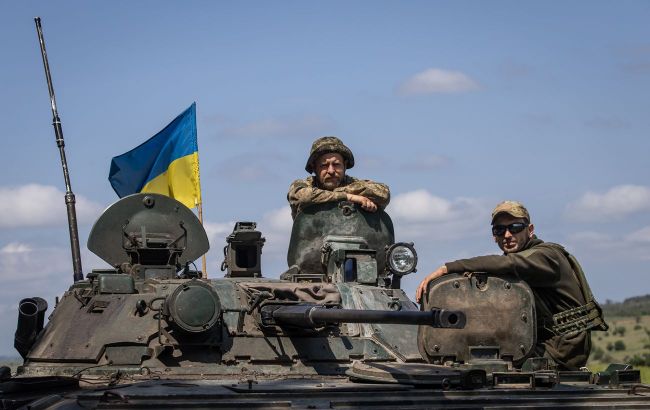 Photo: West prepares for Russia-Ukraine war to last at least until 2025 (Getty Images)
Despite the Ukrainian allies' statements on supporting Kyiv as much as needed to defeat Russia, Western media are writing about a possible stalemate on the front. They suggest the war will last until 2025, after which the "conflict will freeze."
Find more details on the new forecasts and how Ukrainian experts assess them on RBC-Ukraine.
To prepare the article, the following sources were used: articles on CNN, the Austrian media exxpress, forecasts from Western analysts and officials, as well as exclusive comments from Ukrainian military experts.
New forecast: War until 2025
Western officials acknowledge slow but steady progress in the Ukrainian counteroffensive in the south and eastern parts of the country. No one is predicting a quick end to hostilities, and NATO Secretary-General Jens Stoltenberg called to prepare for a prolonged war.
According to him, most military conflicts in the world last longer than initially estimated.
"So, we must prepare for a long war in Ukraine," Stoltenberg said.
As CNN reports, due to the lack of significant territorial gains by the Ukrainian army, there is a growing sense of "nearing a stalemate."
"More and more often, they talk about the conflict (the Russian-Ukrainian war) lasting until 2025. History shows that wars tend to freeze after they start," the media notes, noting the example of the anti-terrorist operation in Donbas being at this stage since 2015.
Photo: Western analysts suggest a "freezing of the conflict" (Getty Images)
Military-political expert of the Information Resistance Group, Oleksandr Kovalenko, is not surprised by these forecasts, as hopes that the war would end by 2023 were in vain.
"I understand that our society has a demand for quick victories. But our society needs to understand that there will be no quick victories in the near future," he said.
According to him, Ukraine pays a huge price for liberating each meter of its territory, and to avoid it being too high, it is necessary to take pauses and carefully prepare for the next steps.
"This is what stretches out the whole process. The fact that Ukraine will be liberated to the borders of 1991 is true. But even when it cannot advance, it will conduct defensive actions. Even if not as effectively as a year ago, it still has human resources and equipment that need to be systematically and professionally destroyed. So we must be cautious in our actions, and caution always requires time," he emphasized.
The Russia-Ukraine war will last at least until 2025, according to Oleksandr Musiienko, the head of the Center of Military Law Researches. This is partly because Russia hopes for a change in U.S. policy after the presidential elections. Therefore, Ukraine has no choice but to develop a counteroffensive strategy for 2024 and defense against Russian attacks.
"But at the same time, I think everything will depend on the results of the counteroffensive by the end of 2023, at which positions we will stop. And on the aid packages we will receive for the spring. Because we need to receive aircraft, long-range missiles, and other types of weaponry that will help us make even greater progress on the front," he noted in his comment to RBC-Ukraine.
As for the "freezing trend," the freezing of hostilities can only be considered theoretically. Firstly, Russia is not interested in it at this stage, and secondly, Ukraine has declared military-political goals to restore territorial integrity and sovereignty.
"It may happen not during one stage, and time will be needed to accumulate resources, forces, and means to continue liberating territories. I cannot call it a 'freeze,' but a decline in the intensity of the conflict in 2024 is possible. Because the laws of war sometimes require this from both sides. We will need it. Russia will need it too because it cannot sustain a high-intensity war for a long time," the expert added.
War until 2032? This is an unrealistic scenario
In September, while speaking at the YES-2023 conference, German General Christian Freuding, the head of the Bundeswehr's Situation Center, assured of long-term support for Kyiv.
"The German parliament has presented a plan for military support to our Ukrainian friends until 2032. We are ready to provide long-term support. And we are ready to make time our ally, not Putin's," he said.
Some Western media, such as the Austrian exxpress, interpreted this statement as "the Bundeswehr and the German government expecting nine more years of war."
Musiienko does not rule out the possibility of the war continuing after 2025 in theory, but he is not prepared to comment on terms such as 2032. According to him, the time of the military confrontation with Russia will only be determined by the situation on the battlefield. However, it is obvious that Ukraine will take necessary pauses between stages of the offensive.
Photo: "9-year war scenario" is absolutely unrealistic (Getty Images)
Oleksandr Kovalenko believes the "9-year scenario" is absolutely unrealistic.
"This is not quite the right understanding of what the senior officer of the Bundeswehr was talking about. It was about supporting Ukraine both during and after the war. Because after the war, we will also need assistance in restoring the combat readiness of our military structures, and our defense forces. This is a long-term project, designed not only for the period of hostilities but also for the future," he told RBC-Ukraine.
The war of predictions: What the timelines are tied to
Ukrainians' hopes for a quick victory are fueled by statements from official figures. Last year, the Chief of Ukraine's Defense Intelligence Kyrylo Budanov said that the Ukrainian forces would enter the occupied Crimea by the end of spring 2023. In early January, he even declared 2023 as the year of Ukraine's victory.
In an April interview with RBC-Ukraine, he referred to reaching the 1991 borders as a completely realistic task, but by August, against the backdrop of outsized expectations for the counteroffensive, he stated that they had been "behind schedule" on Crimea.
"One should acknowledge that events are developing more slowly than expected. But we are approaching the purpose. Yes, it's slower than we hoped for, slower than we calculated, but we are moving forward," he said, adding that intelligence predictions are based on various facts and figures, but the reality on the battlefield introduces corrections.
In June, Minister of Defense Oleksii Reznikov said that the war would end with Ukraine's victory by the summer of next year, but clarified that this was his personal forecast. He also added that the hopes for a quick counteroffensive were not fulfilled, including due to the insufficient amount of ammunition, artillery, air defense equipment, too long front line, and mined areas that had to be cleared manually.
According to expert Oleksandr Kovalenko, the process of de-occupying Crimea will start at best in 2024. This process will begin only after regaining control of parts of the Kherson and Zaporizhzhia regions.
"So, perhaps 2024 will become the year of Crimea's liberation. And 2025 will be the year of more intensive actions in the Luhansk and Donetsk regions, especially in the deep occupation zone captured in 2014-2015," he explained.
Oleksandr Musiienko also emphasizes that Crimea and the south will remain the top priority. According to him, there may be parallel local successes in the east, near Bakhmut, or in other directions.
"But still, the south and Crimea are an absolute priority. I believe that in the West, there is also an understanding that de-occupying the south and cutting off the land corridor to the peninsula, encircling it, will be a significant success. And this basically means Russia's defeat at the current phase," he added.
Spring 2024 could be decisive
Ukrainian forces are engaged in battles against superior enemy forces along a front line of approximately 1,000 kilometers. The expectation of a swift mastering of Western technology led to unneeded optimism that new units would implement tactics of rapid breakthroughs. In reality, the offensive is being conducted by small infantry groups.
"For the most part, neither the enemy nor we use companies, battalions, or brigades, but assault units, groups of 10-15 people," said Oleksandr Tarnavskyi, Commander of the Tavria Operational-Strategic Group of Troops in an interview with CNN.
Photo: Ukrainian offensive follows tactics of small groups (Getty Images)
According to him, this tactic is less sensitive to impassable roads in the fall, mud, fog, and low temperatures in the winter months. Therefore, it's unlikely that weather conditions will affect the current phase of the counteroffensive.
Chief of the UK Defense Staff Tony Radakin describes Ukraine's forces strategy in three words: exhaust, stretch, and strike. And most likely, after winter comes, long-range strikes as on targets in Crimea will intensify.
The potentially decisive phase could be spring 2024. Both sides will prepare and re-equip during the winter. Then Ukraine will deploy its first F-16 fighters, as well as American ATACMS missiles and possibly German Taurus missiles, according to CNN.
Russia, of course, could use the winter to build up its military potential, but Oleksandr Kovalenko doubts it will succeed.
"Because the Defense Forces will continue their offensive actions. Can you build something up when you're under attack and constantly have to compensate for losses? No. In 2022, our goal was to keep such an intensity of hostilities that Russia couldn't restore its offensive capabilities. In 2023, we are reaching a point that not only prevents Russia from building up or recharging but puts it in a minus, meaning it won't be able to compensate for losses even on a one-to-one basis; it will always be in the negative. In 2024, we will increase pressure on its military-industrial complex. The war of attrition will gain momentum," he explained to RBC-Ukraine.
The Western support and how long Russia can continue fighting
European partners and the United States remain committed to supporting Ukraine both on the battlefield and financially. However, there are signs of fatigue. The recent dispute with Poland over grain exports showed that Kyiv is vulnerable to political moods among allied countries.
Additionally, assistance to Ukraine remains a controversial issue in light of the upcoming U.S. election campaign. Ultra-right Republicans are blocking additional billions of dollars, and the budget bills for funding Kyiv were not included in the bills adopted to avoid a government shutdown.
Most likely, 2024 will be a year of political turbulence in the United States, but it is not unlikely that the West will weaken its support for Ukraine, according to Oleksandr Musiienko.
"We understand that the issue of the elections will somehow make certain adjustments. But it seems to me support will continue in 2024, judging by the way the defense industries of partner states are being launched. A lot of aid has already been declared: aircraft deliveries, ATACMS with cluster munitions I believe we will receive, and other types of weapons. They are announced for spring, and maybe even earlier. I think all this will definitely give us the opportunity to hold on next year," he said.
The intensity and duration of hostilities in Ukraine also depend to a large extent on Russia's readiness. The aggressor country still lacks a public demand for ending the war, and high oil prices help cushion the economic collapse. Next year, Russia will allocate no less than 6% of its GDP to its army, and Defense Minister Sergei Shoigu mentioned plans to "achieve the set goals" by 2025.
According to Musiienko, Moscow is doing everything it can to ensure the ability to continue the war, regardless of the situation on the front.
"They need to wage a war. If they end it now, it will mean Russia's collapse and Putin's defeat. I think they are preparing to hold the Ukrainian counteroffensive in 2024 at any cost. I'm not sure they will succeed, but they are actively increasing spending for the next year to prolong the fighting at least until the U.S. presidential elections," he notes in a comment to RBC-Ukraine.
It's hard to say whether Russia is prepared to sustain intense hostilities for another two to three years. However, there are indirect signs that it may not be. For example, the use of World War II-era weaponry that Russia is sending to the front.
"What kind of prolonged war can you talk about? We see D-1 howitzers, D-44 divisional guns, T-54, T-55, and T-62 tanks. We see MTLB transporters with naval bomb launchers or naval automatic guns. What resources and prolonged war can you talk about? Russia is degrading. Right now, the Russian army is in many ways similar to the Syrian one. Every month of war diminishes the quality of Russian weapons. If they started using what's left from World War II, it says a lot," summed up Oleksandr Kovalenko.