Verkhovna Rada supports increase in NABU staff: Bill approved as basis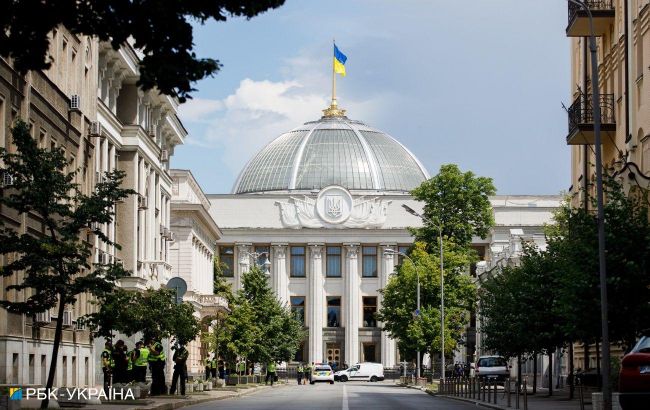 Photo: The Verkhovna Rada adopted the bill on increasing the staff of NABU in the first reading (Vitaly Nosach/RBC-Ukraine)
People's deputies at the meeting of the Verkhovna Rada today, November 21, voted for the draft law №10203-1 on increasing the staff of the National Anti-Corruption Bureau of Ukraine (NABU) in the first reading.
Rada supported the legislative initiative, which is a requirement of the European Commission, with 323 votes in favor.
Thus, the draft law (No. 10203-1), which provides for an increase in the number of NABU staff, was adopted today as a basis.
As MP Oleksii Honcharenko added, it is about the goal to increase the number of Bureau detectives to three hundred in three years. 1.7 billion hryvnias are expected for this.
"It is about 300 detectives in 3 years, 100 detectives plus annually, starting in 2024. UAH 1.7 billion in 3 years," the politician says.
The results of the vote in the Verkhovna Rada on the gradual increase in the staff of NABU (photo: t.me/yzheleznyak)
In the first reading, Rada supported the possibility of the National Agency on Corruption Prevention (NACP) to inspect property
In addition, the parliament passed a bill in the first reading that enables the National Agency on Corruption Prevention (NACP) to inspect property acquired for public service (No. 10262).
The draft law received 287 votes in the session hall of the VRU
Results of voting in the Rada on draft law No. 10262 (photo: t.me/yzheleznyak)
MP Yaroslav Zheleznyak noted that the European Commission, in its report on the evaluation of Ukraine's European integration efforts, drew attention to the need to cancel the restrictions on the powers of the NACP regarding the continuation of the verification of assets that have already passed the verification process, and "regarding the verification of property acquired by declarants before appointment to a civil service position, without prejudice to the rules applicable to national security during martial law".
"This is one of the important conditions for further European integration," the parliamentarian adds.
Approval of "European integration" bills
Last week, on November 14, the Cabinet of Ministers of Ukraine approved draft laws, the adoption of which is a condition for the start of negotiations on our country's accession to the European Union. It is about:
increasing the number of NABU employees by 300 (in stages, one hundred during each of the following years);
on the exclusion of certain provisions from the law on the prevention of corruption, which reduce the effectiveness of the asset declaration mechanism.
We will remind you that earlier in November, the European Commission published a report on the progress of Ukraine and other candidate countries on the way to joining the European Union. In particular, the agency decided to recommend starting accession negotiations with Ukraine, but with the condition of implementing the reforms specified in the report.
For the negotiations to begin, such a decision must be supported by all the leaders of the EU member states. They will consider this issue at the summit to be held on December 14.
​