Usyk tells how he's going to beat Fury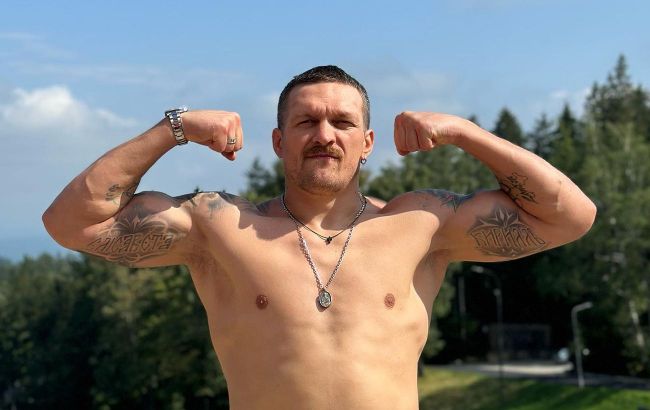 Oleksandr Usyk (photo: instagram.com/usykaa)
Oleksandr Usyk continues to actively prepare for his fight against Tyson Fury, scheduled for February 2024 in Saudi Arabia. However, the Ukrainian boxer prefers not to disclose his tactics, as he said in an interview with Boxing News.
Thus, when asked by a journalist how Oleksandr plans to beat Fury, the Ukrainian replied, "I never think of it that way."
"I know that Tyson is a tricky person and that sometimes he loves to pretend, but my strategy is that I have to be ready for 100 per cent [of him] or even more," he said.
At the same time, Usyk added that he "doesn't care the way Tyson Fury prepared".
"It's his business. I will not tell you about tactics because Tyson Fury might read this," the Ukrainian champion added half-jokingly.
Usyk also does not rule out the possibility that in February, "Fury will be in much better shape by December 23."
Oleksandr Usyk (photo: instagram.com/usykaa)
Usyk also commented on the Francis Ngannou vs. Tyson Fury fight, which ended in Fury's victory by judges' decision.
"Ngannou entered the ring and shocked the world by what he's done. Myself, I did not believe that Ngannou had any chance, and Ngannou just shut the mouth of everyone," said the Ukrainian.
Usyk thinks that Tyson "really underestimated his opponent."
Ngannou knocked out Fury (photo: instagram.com/francisngannou)
Just a quick reminder that the unification fight between the Ukrainian and Briton will take place in February 2024. The fight for the absolute championship will take place in the Saudi capital Riyadh.
Usyk and Fury signed a contract for a fight for the boxing crown in late September.
The initially proposed date for the fight was December 23rd. However, after the Brit's tough match against the Franco-Cameroonian UFC fighter, plans had to be adjusted.
In response to the rescheduling of the fight, the Ukrainian promoter demanded proof of 'The Gypsy King's' injury.