Ukrainian veterans set a world record in Madrid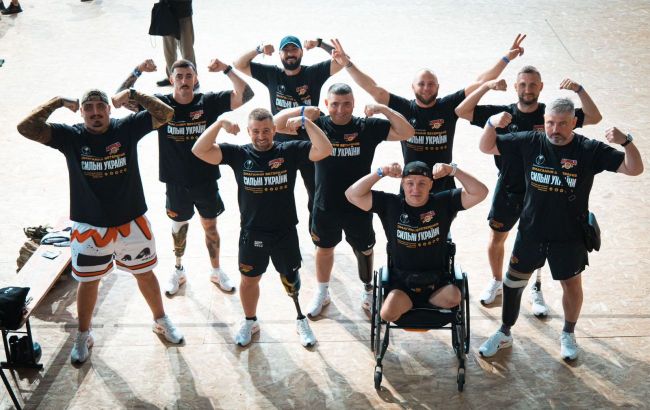 Ukrainian veterans set a world record in Madrid (Photo: facebook.com)
In Kyiv, the official announcement of the world record in strongman was made, which a team of Ukrainian veterans set at the international sports festival Arnold Classic Europe in Madrid, according to the Federation of Strongman of Ukraine.
The winner of the first round of the competition, Strong Ukraine, pulled four trucks with a total weight of 35 tons in a seated tug-of-war. Their result was 20 meters in 30.69 seconds.
The veterans' trip to Madrid was organized by the Federation of Strongman of Ukraine with the support of MPs from the "Servant of the People" party and benefactors. The chief judge was Vasyl Virastyuk.
"Starting a series of Strong Ukraine competitions, we first watched the participants' impressions - how the idea of rehabilitation through sports affected them. In various cities of Ukraine, we gathered incredibly cool, strong-willed defenders, and they all made it clear: rehabilitation through sports is one of the best. A bright example of this is the world record in Madrid. I am not left without a feeling of pride for our invincible defenders," said the head of the "Servant of the People" party, Olena Shulyak.
The team of record holders consists of eight individuals who suffered severe injuries during combat operations and, after treatment and prosthetics, chose rehabilitation through sports:
Oleksandr Shvachka, callsign Vovk;
Mykhailo Drobotenko, callsign "Sever";
Vyacheslav Tsiukh, callsign "Nimets";
Yevhen Smaha, callsign "Sem";
Artem Pohorilyi, callsign "Toma";
Artem Marchenko, callsign "Mara";
Denys Barchuk, callsign "Prvyd";
Vladyslav Shatilo callsign "Shatya."
Recall that the participants of the team were selected based on the results of the Strong Ukraine competitions, which took place from July to September this year in Poltava, Zhytomyr, Uzhhorod, and Rivne with the support of MPs from the "Servant of the People" party.
Veterans and military personnel competed in three adaptive disciplines: bench press, air bike, and rowing on a simulator.