Ukrainian troops enter Robotyne, Zaporizhzhia region, and evacuate civilians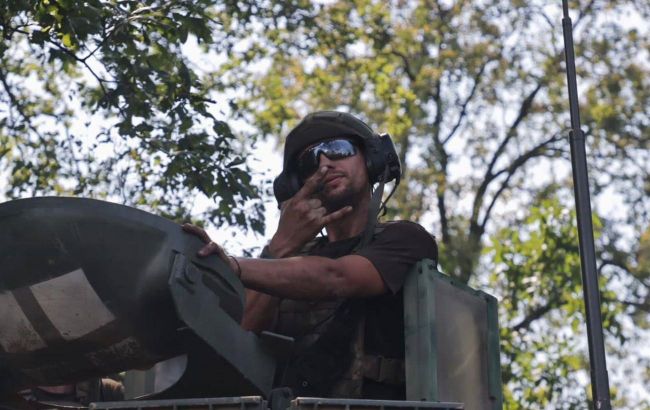 Photo: Ukrainian troops enter Robotyne, Zaporizhzhia region (t.me/annamaliar)
Ukrainian defenders have entered Robotyne village in Zaporizhzhia region and organized evacuation of civilians, according to the Deputy Minister of Defense Hanna Maliar.
"Soldiers of the 47th Brigade, who entered the village of Robotyne in combat, have organized the evacuation of civilians on Bradley armored vehicles," she wrote.

Photo: Ukrainian troops enter Robotyne (t.me/annamaliar)
According to her, Ukrainian military forces are carrying out planned combat operations and eliminating aggressors. In response, occupiers continuously shell Robotyne with artillery. The battles are ongoing.
Meanwhile, soldiers from the 47th Separate Mechanized Brigade have released videos from Robotyne, showing the evacuation of residents.
"After two months of fierce battles, our brigade, with support from other units, has breached the multi-tiered defense line of the occupiers," they wrote.
The first thing the military did was notify the locals of the urgent need to evacuate, as the enemy continues to devastate the village.
In a safer location, medical personnel examined civilians and provided them with the opportunity to call their loved ones.
The military promised to release footage from Robotyne later, for the safety of our soldiers. Battles are still ongoing, and Ukrainian troops are consolidating their positions at the achieved frontlines.
Significance of Robotyne
Yesterday, August 21, the Ministry of Defense reported that Ukrainian defenders were succeeding in the southeast direction of Robotyne. It was mentioned that planned combat operations were ongoing there.
Robotyne is located about 80 km southeast of Zaporizhzhia, 20 km from the administrative center of the Tokmak community, and 30 km from the district center in Polohy. The road of territorial importance T0408 passes through the village of Robotyne.
The village had been under Russian occupation since March 2022. In June 2023, Ukrainian military forces began storming this direction.
Military experts reported that Robotyne serves as the main obstacle on the way to Russians' second line of defense. The village is a key stronghold for the Russians between the Ukrainian-controlled Orikhiv and the occupied Tokmak, which they have turned into a fortress on the path to another crucial hub, Melitopol.
For more information on the tactical significance of Robotyne and how the counteroffensive may develop after its liberation, read the RBC-Ukraine article.