Ukrainian сity in mourning: Pokrovsk after the Russian attack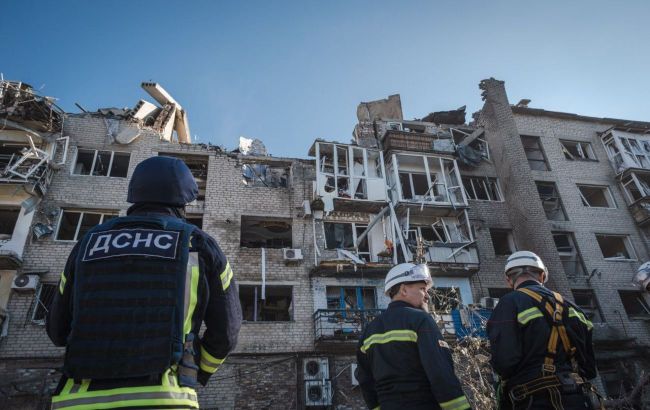 Russians launch missile strikes on Pokrovsk (Photo: t.me/dsns_telegram)
Consequences of the strike
As a result of the attack, seven people died (including five civilians, a rescuer, and a military serviceman), and 88 were injured.
As of 11:00, damage has been reported to 12 multi-story apartment buildings, a hotel, a prosecutor's office, a pension fund, a pharmacy, two stores, two cafes, and two civilian vehicles.
According to the State Emergency Service of Ukraine (SESU), by the morning of August 8th, five fire outbreaks had been extinguished in a residential building and a hotel, covering 75 square meters. According to preliminary information, there are no people trapped under the rubble.
Liquidation of the aftermath of the attack on Pokrovsk (Photo: t.me/dsns_telegram)
SESU units are conducting emergency and rescue operations in a 5-story residential building.
According to the National Police, 31 police officers were injured due to the strike.
Additionally, seven rescuers were injured, and the deputy chief of the State Emergency Service of Ukraine in the Donetsk region, Andrii Omelchenko, was killed.
Among the injured police officers is the hero of the film "20 Days in Mariupol." The film's director, Mstyslav Chernov, reported that Volodymyr was hit by a second rocket strike while helping people after the attack.
Chernov added that the police officer saved his life in Mariupol. Volodymyr helped the Associated Press film crew cover the war in the blockaded city of Mariupol in March 2022 and assisted journalists in leaving the city.
The police officer has shrapnel wounds and is currently in the hospital. Volodymyr underwent surgery.
Subsequent attack
According to Pavlo Kyrylenko, the head of the Ukrainian Military Civil Administration, the first target of Russian forces was the "killing of civilian residents of Pokrovsk," and the subsequent attack was specifically aimed at rescuers and police personnel working on addressing the aftermath of the initial attack.
"At 19:15, the first rocket strike occurred. At 19:52, the second strike occurred. There is a worked-out algorithm not to arrive at the scene depending on the category of shelling - to arrive after a certain interval of time. However, in this case, there was a direct hit on a residential apartment building where people could be under the rubble. Therefore, the investigative and operational group, the SESU, and military administration personnel immediately went to the scene to conduct a rescue operation," Kyrylenko explained.
Mourning in Pokrovsk
To honor the memory of those who died due to the enemy shelling on August 7th, mourning has been declared throughout the Pokrovsk community today.
The Ministry of Veterans Affairs recommended lowering the Ukrainian flag on buildings and adorning the Pokrovsk flag with mourning ribbons.
Additionally, the use of music and holding entertainment events in the city have been restricted.