Ukrainian police discover body tortured by Russian military near Balakliia, Kharkiv region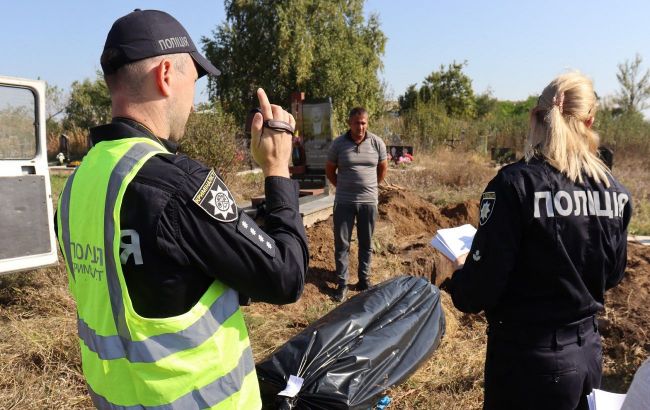 Exhumation (facebook.com/police.kharkov)
"They buried him during the occupation in the central cemetery," the report states.
It is noted that the body of the deceased had extensive hematomas, bruises, and marks from ropes on the arms. Now the body has been sent for a forensic examination.
Photo: Exhumation (facebook.com/police.kharkov)
Police have initiated a criminal investigation into the violation of laws and customs of war.
Circumstances of the man's murder
"59-year-old Yurii Kryvich was a businessman and a staunch supporter of Ukraine. This did not sit well with some locals," said the deceased's brother.
According to him, there was a conflict between him (the deceased - Ed.) and local residents the day before, and they threatened him for "misbehaving."
Neighbors reported that on April 27 of last year, he was taken by Russian military personnel from the so-called Luhansk People's Republic, and his body was found in the backyard within a day. The deceased was buried on May 2, 2022.
Police statement
According to Anna Ponomarenko, Senior Investigator in particularly important cases at the police investigation department of the Kharkiv region, there is no doubt that Russian military personnel committed this crime.
"At that time, there were military personnel from the so-called Luhansk People's Republic and Russian Federation troops in the urban-type settlement of Savyntsi, and there is evidence that he was taken by military personnel. After that, his body was found with physical injuries," Ponomarenko reported.
She adds that currently, under the operational support of the Criminal Search Department, investigative actions are ongoing to identify individuals who may be involved in the murder of Yurii Krivich.
Killings of people by Russians in the occupied territories of Ukraine
During the Russian invasion, Russian military personnel killed hundreds of people. Civilians were abducted and later subjected to torture. Ukrainian law enforcement agencies regularly conduct exhumations in territories liberated from Russia.
In May, in the northern Donetsk region, the police exhumed the bodies of six people. Some of them died as a result of shelling by Russian forces.
In July, law enforcement conducted an exhumation in the village of Tsyrkuny (the Kharkiv region), where they discovered the body of a man who was killed last year as a result of shelling by Russian forces.