Ukrainian Parliament approves legalization of medical cannabis: what it means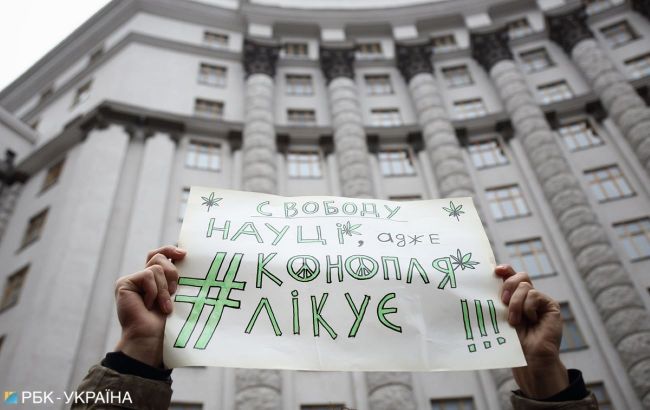 Photo: Ukraine has taken a step to legalize medical cannabis (RBC-Ukraine, Vitalii Nosach)
The draft law was approved with 268 votes.
It is intended to legalize the circulation of cannabis plants for medical, industrial, scientific, and scientific-technical purposes. The goal is to create conditions for expanding patients' access to treatment for oncological diseases and post-traumatic stress disorders (PTSD) acquired as a result of war.
Limited legalization of cannabis, its resin, extracts, tinctures, and tetrahydrocannabinol (THC) - the first and only cannabinoid allowed for medical use in some countries - is envisaged.
The preparations based on synthetic THC are used in many Western countries to alleviate the side effects of chemotherapy in cancer patients. Research confirms their effectiveness in glaucoma, Tourette's syndrome, schizophrenia, various psychoses, phantom pains, neuropathic pain, and other conditions.
Why do Ukrainians need medical cannabis legalization?
Ukraine lacks regulation in handling substances classified as narcotics and psychotropics, but it is necessary to provide quality medical services, prevent patient suffering, and aid recovery from complex diseases.
In Ukraine, this issue is particularly relevant for the following categories:
Children with epilepsy
Cancer patients
Patients in need of palliative care (for incurable diseases)
War veterans with PTSD
The current legislation prohibits any activity related to cannabis, its resin, extracts, tinctures, and THC. However, in the context of cannabis legalization, it refers explicitly to cannabis with an acceptable THC concentration, and the exact level is yet to be determined by the Cabinet of Ministers of Ukraine.
The therapeutic effect and global experience
The proposed changes are based on international research and developments. The therapeutic effect of cannabidiol (CBD) has also been confirmed by conclusions from international institutions specializing in the field.
For instance, the Expert Committee on Drug Dependence of the World Health Organization (WHO) published reports in 2018-2019, which concluded, based on preclinical and clinical studies, that CBD is not a psychoactive substance, does not induce a state of narcotic intoxication, is not addictive, does not have serious side effects, but at the same time, it has significant therapeutic potential.
Only varieties of cannabis containing more than 1% THC in two-thirds of the dry weight of the inflorescences can have a negative impact when consumed regularly in high doses. However, it has been established that high doses of oral CBD consumption do not cause THC-like effects nor induce changes in psychomotor functions.
Today, there is no evidence of human addiction to phytocannabinoids other than THC.
The International Narcotics Control Board of the United Nations emphasized in its 2019 report the need for accessibility of drugs containing narcotic substances by international law. This includes permission for the use of cannabis for medical and scientific purposes.
The European Monitoring Centre for Drugs and Drug Addiction updated its recommendations for using cannabis in medicine 2018. Such conclusions have prompted the legalization of cannabis use for medical and scientific purposes.
The use of cannabis in medicine is allowed in 56 countries worldwide, including Germany, Spain, the Netherlands, Italy, the Czech Republic, France, Portugal, Poland, Greece, Austria, Denmark, Belgium, Norway, as well as Israel, the United Kingdom, the United States, and Canada.
Currently, Ukrainian scientists cannot freely research cannabinoids due to legislative restrictions.
Results forecast
The proponents of the draft law believe that the legalization of medical cannabis will:
Ensure access for Ukrainian patients to cannabis-based medicines.
Promote the development of medical science and the pharmaceutical industry through clinical trials of cannabis-based medications.
Allow the cultivation of hemp with permissible amounts of narcotic substances.
Facilitate the attraction of international investments in the science and industry of Ukraine.
How will the circulation of medical cannabis be controlled?
It is proposed to track the circulation of cannabis plant species, processed products, and medications based on them through:
Labeling each batch and unit of packaged products with barcodes.
Maintaining an electronic registry to record their movements.
Selling drugs strictly by prescription from a doctor through electronic prescriptions.
Where can medications based on cannabis be purchased?
Retail trade will be conducted in pharmacies with the appropriate license for this type of activity.
The electronic healthcare system will only conduct the prescriptions and sales registration.
The draft law also includes a ban on the import of narcotic drugs, psychotropic substances, and cannabis precursors until 2033. This restriction does not apply to finished medicinal preparations that have undergone all stages of production.
Recently, the legalization of medical cannabis was supported by Volodymyr Zelenskyy. He believes Ukraine should adopt the best global physical and mental rehabilitation practices.