Ukrainian MFA and Borrell dismiss possibility of Ukraine's partial EU membership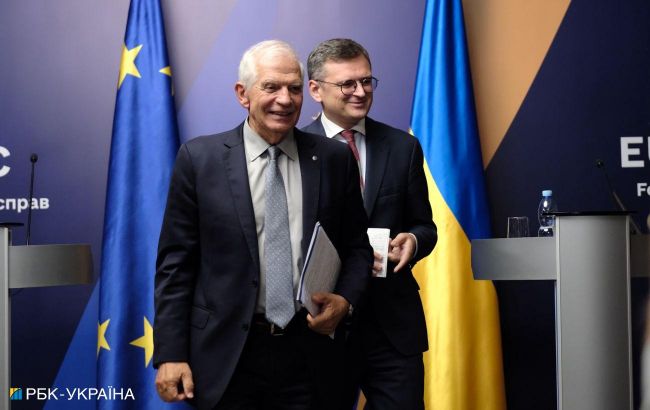 EU's Chief Diplomat Josep Borrell and Ukraine's Foreign Minister Dmytro Kuleba (Photo: Vitalii Nosach, RBC-Ukraine)
Ukraine has not received any proposals for partial membership in the European Union. Such an option for accession is impossible, according to a joint briefing by Ukraine's Foreign Minister Dmytro Kuleba and the EU's Chief Diplomat Josep Borrell.
Kuleba states that Ukraine is not engaging in any discussions regarding the possibility of "second-class membership" in the EU.
"Ukraine is a first-class state. Therefore, nothing other than 'first-class membership' suits us," emphasized the head of the Ministry of Foreign Affairs.
In turn, Borrell clarifies that in the European Union, there is no concept of "partial or 25-percent membership."
"I don't understand where this comes from... Membership is membership, full stop," added the EU's Chief Diplomat.
Background
Earlier, Politico reported that experts, at the request of France and Germany, had developed a new plan for reforming the European Union, which concerned the admission of new members.
According to these proposals, Europeans allegedly want to categorize countries into four main groups based on their level of integration and willingness.
In response to such speculations, the Prime Minister of Ukraine, Denys Shmyhal, emphasized that Ukraine would not accept "second-class" EU membership.
Shmyhal previously stated that Ukraine would be fully ready to become a member of the European Union within two years.