Ukrainian marines destroy Russian trucks on Oleshky - Nova Kakhovka highway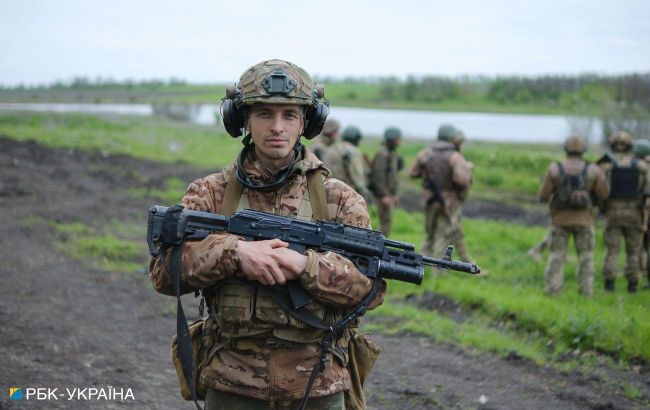 Photo: Defense Forces fighters conduct raid operations on the left bank of the Kherson region (Vitaii Nosach, RBC-Ukraine)
During operations in the Kherson region, Ukrainian marines destroyed several military trucks of the Russian occupiers on the Oleshky - Nova Kakhovka highway. Thus, the defenders continue to violate the enemy's logistical routes, say the representative of the Ukrainian Volunteer Army "South" and the spokesperson of the Odesa Regional Military Administration, Serhii Bratchuk.
The raid by fighters of the 501st separate battalion of marines was carried out the day before.
"This is extremely difficult work, there are losses. But these trucks were supposed to supply the enemy with ammunition, and now they have been destroyed," Bratchuk says.
According to him, disrupting the logistics routes of the invaders is one of the tasks of the Ukrainian Defense Forces on the left bank of the Dnipro River in the region. Thus, raids, reconnaissance, and sabotage actions are carried out, as a result of which the enemy suffers losses in manpower and equipment.
"We need to be very careful about informing about the left bank, but we are talking about what can be said. These events are happening and will continue shortly," Bratchuk says.
The officer also said that the settlement of Krynky "actually does not exist today" because the Russian troops are trying to destroy the bridgeheads that hold the Ukrainian marines.
"Heavy battles continue. The enemy is using everything they have for fire damage as much as possible, including aviation weapons, but our positions are being held," he emphasizes.
Bratchuk adds that now there is also a counter-battery fight not only between the right bank and the left but "the bridgeheads of the left bank can respond to the enemy."
Operation of the Ukrainian Armed Forces on the left bank of the Kherson region
On November 17, the Defense Forces of Ukraine announced that they had conducted a series of successful actions on the left bank of the Dnieper in the Kherson region. The Ukrainian Armed Forces managed to gain a foothold on several bridgeheads.
The General Staff of the Armed Forces explained that the defenders wanted to push the Russian invaders away from the right bank of the Dnipro River. This will reduce enemy shelling of civilian objects.
Earlier, the representative of the Defense Forces of Southern Ukraine, Natalia Humeniuk, noted that the work on the left bank continues, but is complicated by bad weather.