Ukrainian forces hold their positions amid heavy fighting near Kreminna, Luhansk region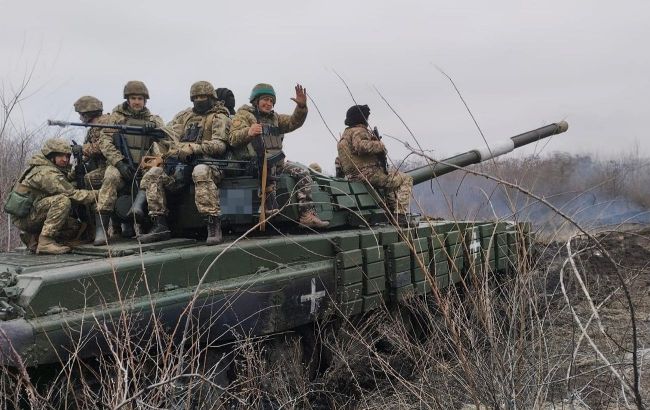 Ukrainian forces hold their positions amid heavy fighting near Kreminna, Luhansk region (facebook.com easternforce)
Units of the National Guard of Ukraine managed to hold their positions in the area of Russian-occupied Kreminna in the Luhansk region during the ongoing heavy fighting, as Deputy Director of the Planning Department of the Main Directorate of the National Guard of Ukraine Mykola Urshalovych said during a briefing at the Military Media Center.
According to Urshalovych, from July 26 to July 30, the commander of the mortar unit from the 5th Slobodzhansk Brigade of the National Guard successfully thwarted several attempts by Russian occupiers to advance in the territory of Serebrianka Forest.
"The actions of this commander allowed the Ukrainian forces to maintain their positions. As a result, the Russian military suffered significant casualties, with at least four tanks destroyed or damaged," he noted.
Additionally, on July 27, a group of operators of unmanned aerial vehicles (UAVs), a mortar platoon, and a crew of an automatic grenade launcher detected and destroyed a concentration of Russian troops at one of the observation posts.
"Ukrainian forces conducted a strike on the observation post, eliminating five occupiers, and injuring nine Russian soldiers," he added.
The Russian forces are exerting pressure on the Ukrainian forces in the region of Svatove and constantly attacking Bilohorivka in the Luhansk region, while the Ukrainian military is successfully holding their positions. According to Artem Lysohor, the head of the Luhansk Regional Military Administration, Russian occupiers attempted to advance from the areas of Karmazynivka and Kuzemivka towards Novoselivske and Novoehorivka.
The Russian army is deploying regular troops and Storm-Z units in the battle.
Additionally, Russian military attempts to capture Bilohorivka have been challenging, prompting them to primarily rely on artillery and aviation.
Frontline situation
According to data from the General Staff of the Armed Forces of Ukraine, in the past 24 hours, Ukrainian forces eliminated around 620 occupiers. Since the full-scale invasion began, Russia has lost nearly 248,000 personnel.
As the spokesman for the Eastern Command of the Ukrainian Armed Forces Serhiy Cherevatyi said, Ukrainian forces continue to advance on the flanks around Bakhmut in the Donetsk region, particularly in the southern direction.