Ukrainian forces destroy over two Russian platoons and 8 weapon depots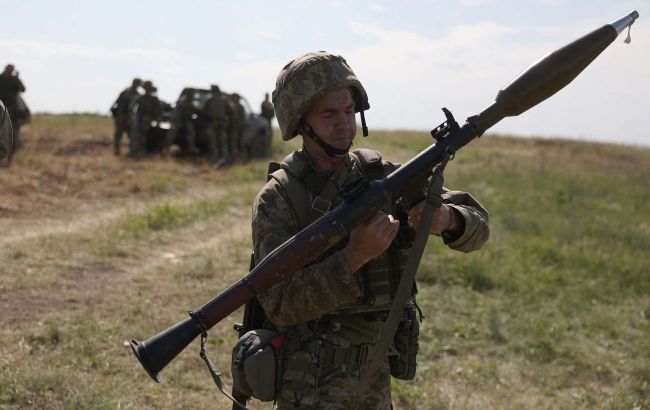 Ukrainian Armed Forces eliminated more than two companies of Russians in the Tavria direction (Getty Images)
The Ukrainian military units operating on the Tavria direction have successfully held their positions, thwarting Russian offensives. Over the past 24 hours, Ukrainian Armed Forces have reportedly eliminated more than two enemy platoons, dealing a significant blow to the advancing Russian troops, reported the commander of the operational-strategic forces "Tavria", General Oleksandr Tarnavskyi.
"The Ukrainian forces defending the Tavria front are achieving remarkable success in repelling the enemy. Specifically, Ukrainian troops have recaptured Staromaiorske in the Donetsk region and consolidated their positions on the gained front lines," General Tarnavskyi said.
According to the report, the enemy launched 17 attacks on Ukrainian positions throughout the day and executed 666 artillery strikes. In response, the Ukrainian Artillery units in the Tavria direction carried out 1,510 fire missions. The relentless and coordinated efforts of the Ukrainian troops resulted in over two enemy platoons suffering casualties, both killed and injured.
During the counteroffensive, the Ukrainian forces demonstrated their coordinated operation by neutralizing 19 pieces of enemy military equipment, including 2 tanks, 4 armored vehicles, D-20 howitzer, Supercam, Zala, and Elenor drones, 2A36 Giatsint-B howitzer, and various military vehicles. Additionally, 8 enemy ammunition depots were successfully destroyed.
Summer counteroffensive
As the Ukrainian military presses forward with its counteroffensive, it has reclaimed control over several populated areas in the Zaporizhzhia and Donetsk regions.
The United States National Security Council previously reported that Russian forces had been constructing multiple lines of defense in the occupied Ukrainian territory over several months. This strategic approach has slowed the progress of Ukrainian troops in certain areas.
However, The New York Times recently reported that the Ukrainian Armed Forces have intensified their offensive in the Zaporizhzhia region. Their goal is to cut off the "land corridor" to Crimea and liberate Tokmak and Melitopol from occupation.
President Volodymyr Zelenskyy alluded to the successes of the Ukrainian troops on the front lines, although he said that further details would be provided at a later time.