Ukrainian flags and signboards appear in latest Spider-Man game: Photos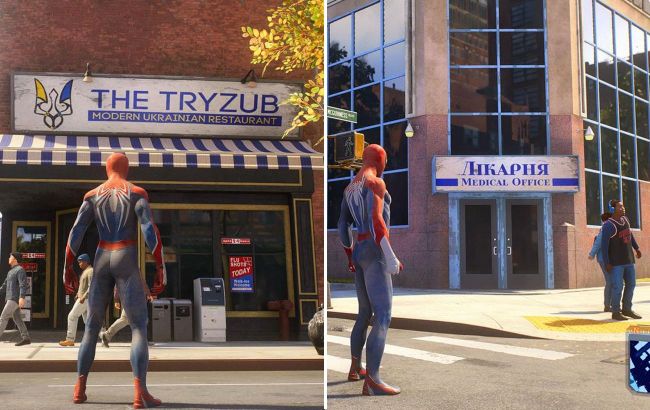 Ukrainian flags in the Spider-Man game (Collage: RBC-Ukraine)
In the gaming world, a new game featuring the famous Spider-Man, Marvel's Spider-Man 2, has been released. Fans were eagerly anticipating it, but the Ukrainian part of the fanbase was most impressed. The developers decided to decorate the streets of the city through which the game's hero moves with Ukrainian flags and signs.
The appearance of the interface is shown by RBC-Ukraine based on tweet from streamer Padon on X (Twitter).
How does the game look
"In Marvel's Spider-Man 2, one of the first districts available for exploration is a little Odesa!" - wrote the streamer.
In the screenshots taken by the blogger, you can see national flags and signs in the Ukrainian language. These include Kyiv Clothing, Hospital, Pharmacy, The Tryzub, and more.
Screenshots: twitter.com/pad0n
Additionally, the developers used a few dialectical Ukrainian words, such as sklepochok, which means store. In it, they sell borscht, pies, stuffed cabbage rolls, and honey cake.
Screenshots: twitter.com/pad0n
Furthermore, in the game city, other users also found a church.
Screenshot: twitter.com/RangeVlad
How Ukrainians reacted:
"I understood, I need to buy Spider-Man too."
"You should see what is going on Russian social media right now! Quite a sight! And this is despite them getting a full Russian localization with voice acting."
"Insomniac is my favorite studio."
Previously, we reported on the Ukrainian books that made it into The Telegraph's ranking of the best books.