Ukrainian books among top 2023 books according to The Telegraph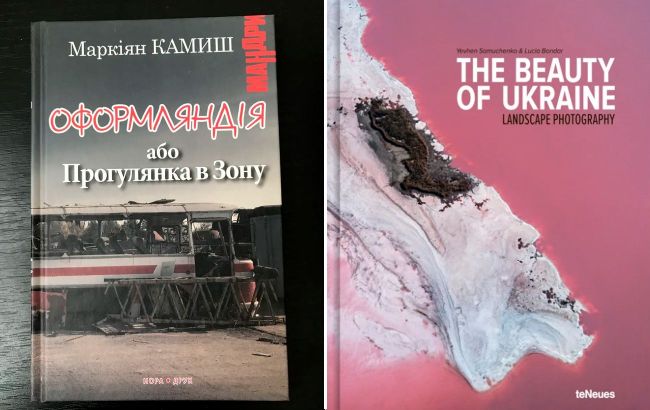 Ukrainian books among top 2023 books according to The Telegraph (RBC-Ukraine collage)
The authoritative British newspaper, The Telegraph, has included two books by Ukrainian authors in its list of the best books of 2023. Literature related to Russia also made it to the list.
Who made it to the list
Among the four photobooks in the list, one can find the Ukrainian "The Beauty of Ukraine: Landscape Photography." It was authored by photographers Yevhen Samuchenko and Lucia Bondar. The book contains English and German translations.
"A visually stunning declaration of love by the young, award-winning Ukrainian photographer Yevhen Samuchenko to his homeland in dark times ," experts described the photographer's work.
The book is not currently available in Ukraine. However, it can be purchased for 39.95 British pounds, which is equivalent to 1,776 Ukrainian hryvnias.
Another book recognized by journalists is "Stalking the Atomic City" by Markiyan Kamysh.
The book delves into the Chornobyl disaster and immerses readers in the world of illegal tourist-stalkers. The pages do not offer dry facts or descriptions but rather an insider's perspective on the phenomenon of illegal tourism in the exclusion zone.
The book is illustrated with photographs taken by Markiyan himself.
The author was a participant in the Revolution of Dignity and later joined the Ukrainian Armed Forces after the onset of Russia's full-scale invasion.
The book "Stalking the Atomic City" is available in Ukraine at a cost of no more than 120 hryvnias. However, The Telegraph offers it to its readers for 12.99 British pounds, equivalent to 578 hryvnias.
Unwanted guests
The list of the best publications for 2023 also includes several mentions of Russia. For instance, two books about Russian history written by British historians. Both copies can be purchased for 25 (1,111 hryvnias) and 30 (1,333 hryvnias) British pounds, respectively.
Also featured is the book "Overreach: The Inside Story of Putin's War Against Ukraine." It was named the book of the year by The Telegraph and the book of the summer in 2023 according to The Times.
It is already available for pre-order in Ukraine at an estimated cost of 560 hryvnias.
The last book in the list with a mention of Russia is a biography of Putin by British journalist and writer Philip Short.
"Philip Short's magisterial biography delves exceptionally deep into the personality of its enigmatic and ruthless leader and dispels many of our prejudices about Putin's Russia. Since becoming president in 2000, his obsession was to restore Russia's status as a great power free from Western rules. What forces and experiences shaped him?" is mentioned in the book's annotation.
It can be purchased for an estimated 950 hryvnias in Ukraine, while The Telegraph offers the Putin biography for 1,300 hryvnias.