Ukrainian counteroffensive: Russians trying to surround Avdiivka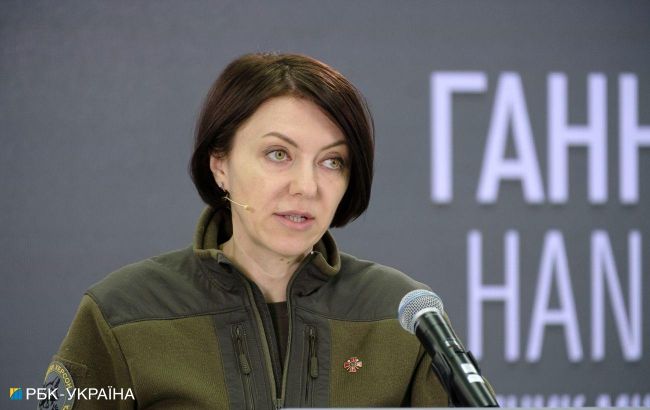 Hanna Maliar, Deputy Minister of Defense of Ukraine (Photo: RBC-Ukraine, Vitalii Nosach)
Russian forces do not intend to capture Avdiivka. Their objective is to encircle the city and advance further, as they are tasked with fully occupying the Donetsk and Luhansk regions, according to the statement by Hanna Maliar, Deputy Minister of Defense, during a televised marathon.
"Our military on this front is defending so heroically that the enemy doesn't even dare enter Avdiivka to avoid engaging in battles with our defenders. However, the enemy wants to bypass Avdiivka, surround it, and move forward," Maliar revealed.
She emphasized that for the Russians, the key is the forward movement. They don't always focus on capturing specific settlements; their goal is to completely control the Donetsk and Luhansk regions.
"For them, Avdiivka presents a significant obstacle in their path. They are primarily contending for key heights to control and move ahead and transportation routes. A prolonged and fierce struggle has been ongoing there for a year. Our Armed Forces are not letting the enemy advance," the Deputy Minister noted.
Maliar stressed that battles continue on the Avdiivka front, and what stands out is that over the past year, the enemy has not advanced a single centimeter there.
Frontline situation
According to the General Staff, Ukrainian Defense Forces continue their offensive operations on the Melitopol and Berdyansk fronts. They are consolidating their positions at achieved lines while conducting counter-battery actions. Over the past day, more than 15 combat clashes have occurred on the frontlines.
As the Institute for the Study of War (ISW) reported, during counteroffensive operations, Ukrainian forces have made progress in the border region of the Donetsk and Zaporizhzhia region. Meanwhile, Russian occupiers face difficulties reinforcing their defensive lines due to a lack of reserves.
As of Tuesday morning, August 15, Russia's losses in the war in Ukraine totaled 540 militants, with 254,920 military personnel lost by the Russian army since the beginning of the invasion. In addition, the Ukrainian Armed Forces have destroyed an enemy helicopter and 29 artillery systems.