Ukrainian counteroffensive continues on three fronts - details as of August 8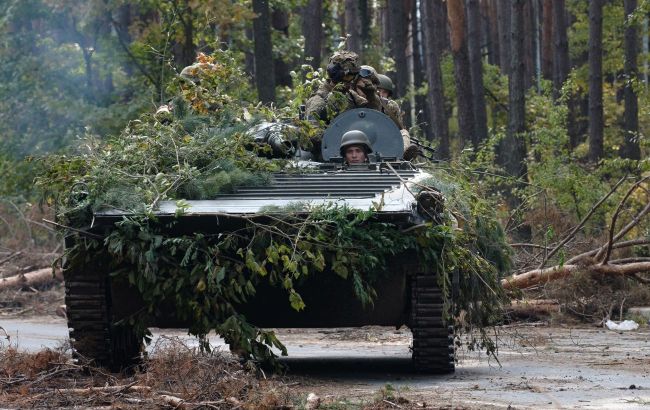 Ukrainian counteroffensive continues on three fronts (Photo: Vitalii Nosach, RBC-Ukraine)
According to Andriy Kovaliov, spokesperson for the General Staff of the Armed Forces of Ukraine, and his statement, made during a TV interview, Ukrainian defense forces are persistently advancing in their offensive operation on the Bakhmut, Melitopol, and Berdyansk fronts.
"They are consolidating their positions on achieved frontlines, inflicting artillery fire on identified enemy targets. Counter-battery actions are also being carried out," he stated.
According to Kovaliov, on the Bakhmut front, Ukrainian forces are continuing their offensive actions to the south of the city of Bakhmut, solidifying their positions on captured frontlines.
Meanwhile, the adversary's attempts at advancing have been unsuccessful in the areas of Avdiivka, Maryinka, southeast of Mala Tokmachka, and north of Robotyne. "The enemy is sustaining significant losses in personnel, weaponry, and equipment. They are shifting units and deploying reserves actively," Kovaliov reported.
Additionally, the Ukrainian defense forces are still holding back Russian troop advances on the Kupyansk and Lyman fronts. "The enemy's unsuccessful offensive actions have taken place in the regions of Andriivka, Kurdyumivka, and Druzhba. Fierce battles are ongoing there," he added.
Ukrainian counteroffensive
Ukrainian counteroffensive began in early June 2023. Notably, they achieved success in the southeastern direction by reclaiming a number of populated areas.
Simultaneously, a portion of the forces remains in defense, as the Russian army is also attempting to advance, having concentrated a significant grouping on the Lyman-Kupyansk front.
Deputy Minister of Defense of Ukraine, Hanna Maliar, reported that Ukrainian military managed to repel all Russian advancement attempts over the previous week and prevented their progression.