Ukrainian citizen detained at protest in Batumi over cruise liner with Russians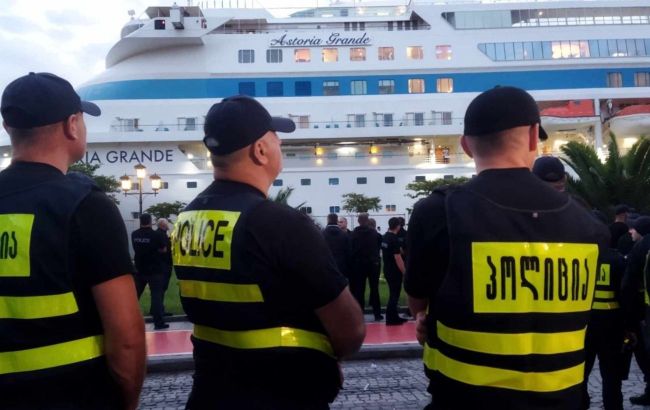 Ukrainian citizen detained at protest in Batumi over cruise liner with Russians (Photo: newsgeorgia.ge)
As of July 31, the Ukrainian Ministry of Foreign Affairs is investigating reports of a Ukrainian citizen being detained during a protest against the arrival of a cruise liner carrying Russian tourists in the Georgian city of Batumi.
According to a statement of the Ministry's spokesperson, Oleh Nikolenko, diplomats are currently verifying the information regarding the detention of the Ukrainian citizen.
Georgian media outlets report that a total of nine individuals were detained during the protest against the arrival of Russian tourists in Georgia, including the Ukrainian citizen.
The Georgian publication "News Georgia" reports that another protest is planned for the evening in Batumi, demanding the release of all those who were detained. The arrests of the protesters are still ongoing.
Reporters state that the Russian tourists from the cruise liner are currently being escorted on buses for excursions, with police providing security. One of the buses carrying the Russians was targeted with bottles and eggs by protesters.
Background on the cruise liner incident in Georgia
On July 27, the cruise liner Astoria Grande, carrying Russian tourists from Sochi, attempted to enter the port of Batumi, Georgia, for the first time. However, the liner was unable to enter the port as protesters chanted slogans such as "Russian ship, go ... yourself" and "Abkhazia is Georgia." The protest was supported by the President of Georgia.
It is worth noting that the cruise liner made another attempt to enter the Georgian city of Batumi on July 31. Similar to the previous incident, Georgian protesters planned a demonstration at the dock, but this time, the participants were detained by authorities.