Liner with Russians in Georgia: Batumi police detain 2 protesters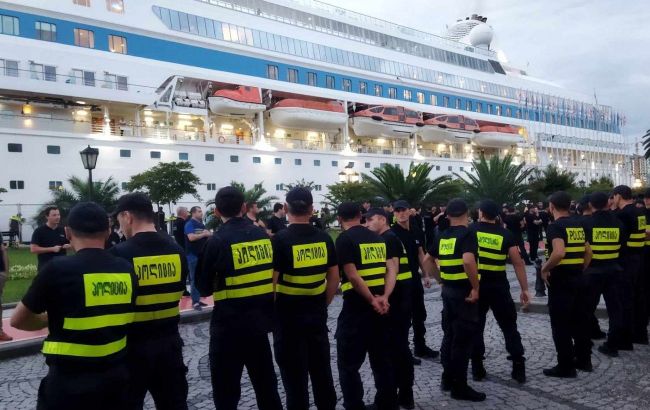 Georgian police prevent a rally in the port of Batumi (facebook.com/batumelebi)
On July 31, in the Georgian port city of Batumi, police have arrested several participants of a protest against the arrival of the cruise liner Astoria Grande from Sochi, Russia, reported the Georgian publication Batumelebi.
The arrest of the demonstrators on July 31 was captured on live broadcast.
According to journalists, two protesters were detained by law enforcement during the demonstration.
The protest began at midnight in Batumi Harbor, but the police prevented the protesters, including civic activists and members of the opposition political party, from reaching the designated area, citing "security concerns."
The demonstrators attempted to break through police barriers and enter the port territory.
The Astoria Grande cruise liner's attempts to enter a Georgian port
Georgians greeted the Russian cruise liner Astoria Grande with a protest on July 27. The demonstration received support from Georgia's President, Salome Zurabishvili.
Previously, Georgian media reported that the Astoria Grande, registered in Seychelles to bypass sanctions, carried Kremlin sympathizers on board. Notably, former Hi-Fi band vocalist Mitia Fomin, who openly supported the Russian invasion of Ukraine, and Belarusian singer Dmitriy Koldun, who performed in the occupied part of the Donetsk region in 2018.
On July 31, the cruise liner made another attempt to dock in the Georgian city of Batumi. Once again, Georgians planned a protest at the dock to prevent the vessel from mooring and Russian passengers from disembarking.