Ukrainian boxer Usyk reminds the world of Russian atrocities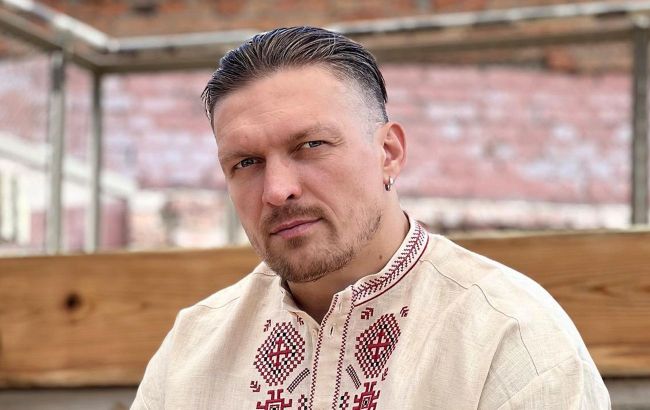 Ukrainian boxing champion Oleksandr Usyk (photo: instagram.com/usykaa)
A showdown between Olexandr Usyk and Tyson Fury is set to take place in Saudi Arabia in February 2024. During his preparations and interactions with foreign journalists, Usyk does not forget to mention the war in Ukraine, according to British Boxing News.
A journalist asked the athlete about his contribution to Ukraine's victory. Usyk replied that he visited liberated areas previously occupied by Russian forces and even had intentions of going to the front lines. However, at the outset of the full-scale conflict, his responsibilities were to ensure the safety of his family.
"First I visited my sons [Kyrylo and Mykhalio], my mum, and my wife's parents in Europe, and then I came back to Ukraine [to Kiev] where my wife [Yekaterina], my daughter [Yelizaveta], were waiting for me, and I started to catch up with things that were waiting for me. The things I'd needed to do, since I'd left for the [Dubois] training camp. I actually caught up with some responsibilities as a husband, and a father, and I trained," Olexandr Usyk said.
Usyk supports Ukraine both informationally and financially, raising funds to aid the Ukrainian Armed Forces (photo: instagram.com/usykaa).
He said that after his fight with Dubois in Poland, he didn't go to the front lines, but he did visit areas that suffered from the war and got to see destroyed homes and killed people.
Having witnessed the horrors of the war, the boxer started working towards rebuilding the country.
"We want people back; we want houses back; we want them to live in their homes; bring up their children. That's why my team, from my foundation, and the team of United 24 – and many people who help us, funding the foundations – we are doing this to get our people back. Back to a normal life," Usyk said.
Olexandr Usyk has become an ambassador for United 24 (photo: instagram.com/usykaa).
The Usyk vs. Fury match is scheduled for February 2024. The initial date for the fight was December 23, but adjustments had to be made after a tough match for the British fighter against MMA fighter Ngannou.
Olexandr Usyk also shared how he plans to defeat Tyson Fury, with a plan to be 100% prepared for anything.