Ukrainian Armed Forces destroy 23 units of military eqpt on Tavria front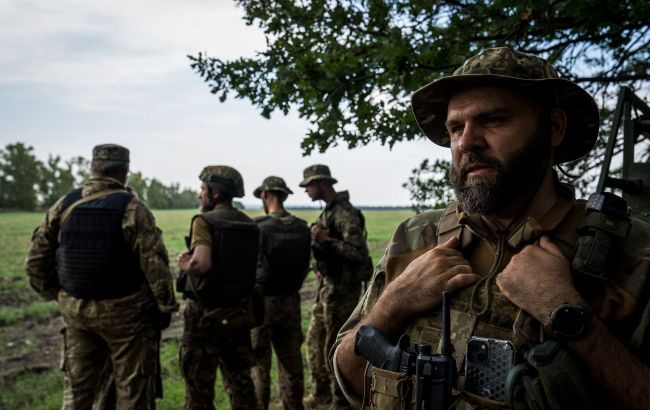 Ukrainian Armed Forces destroy 23 units of military eqpt on Tavria front (Getty Images)
"The Ukrainian defense forces continue to defend the southern part of Ukraine, conduct offensive operations in the Melitopol direction, defeat the enemy, step by step liberate temporarily occupied territories, and consolidate their positions at achieved frontlines," the statement reads.
During the day, terrorists:
Launched 28 aerial strikes.
Engaged in 21 combat clashes.
Conducted 600 shelling attacks using tanks, rocket-propelled grenades, and small arms artillery.
"In the area of responsibility of the Ukrainian Armed Forces on the Tavria front in the Mariupol direction, the enemy conducted unsuccessful offensive actions in the Maryinka area of the Donetsk region. Over the past day, the enemy made 11 unsuccessful attempts to displace our units from their positions," the press service adds.
The enemy suffered significant losses in personnel and equipment during attempts to attack in the areas of Sieverne, Rivnopillia in the Donetsk region, and Novodarivka in the Zaporizhzhia region.
"At the same time, on the Avdiivka, Maryinka, and Shakhtarsk fronts, the defense forces maintain the initiative, press the enemy, carry out assault actions, and regain our land," noted the press center.
Achievements of the Ukrainian military
During the day, Ukrainian soldiers completed 978 fire missions. Enemy losses amounted to 204 individuals, specifically:
70 terrorists were eliminated.
130 were wounded.
4 were captured.
Additionally, 23 units of enemy military equipment were destroyed, including:
6 artillery systems and mortars.
1 self-propelled gun.
11 UAVs (Unmanned Aerial Vehicles).
2 units of automotive equipment.
3 units of special equipment.
"Also, one enemy ammunition depot was destroyed," the press service reports.
Russian losses in the war
As reported by the General Staff of the Armed Forces of Ukraine, during the past day, on September 16, Ukrainian soldiers eliminated a total of 530 Russian terrorists. Since the beginning of the full-scale invasion, the terrorist country Russia has lost approximately 272,320 personnel.