Ukrainian aircraft ranks among largest airliners of Polish airport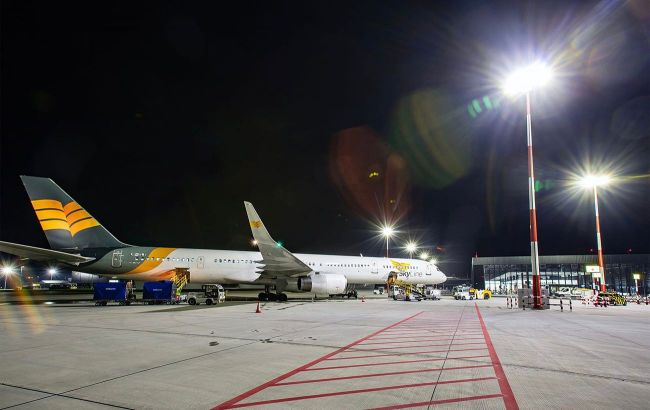 Photo: Skyline Express Airlines plane at Warsaw-Radom airport (facebook.com/anextourpl)
The plane of the Ukrainian airline Skyline Express was included in the top of the largest airliners of the Polish airport Katowice, which will perform flights this winter. The Ukrainian plane is in second place in terms of size at the airport, reports avianews.com.
The airport has published a list of the three largest airliners that will operate flights in the winter season of 2023/2024. The Ukrainian airline Skyline Express took second place. Its Boeing 757-300 airliner can carry 275 passengers.
The largest aircraft at the airport in Katowice this winter season will be the Airbus A330-200 with 296 seats of the Spanish airline Plus Ultra, followed by the Skyline Express with a Boeing 757-300. In third place is the Boeing 787-8 with 252 seats of LOT Polish Airlines.
How all three airliners look next to each other can be seen in the picture of the airport press service.
All three largest planes will transport passengers to popular resorts on the order of Polish tour operators.
For example, the Airbus A330-200 of the Spanish airline flies to Cuba and Venezuela, and the Ukrainian Boeing 757-300 flies to Egypt (Sharm el-Sheikh, Hurghada, and Marsa Alam). Boeing 787-8 of the Polish airline LOT - to Thailand, Mexico, Vietnam and the Dominican Republic.
Photo: The three largest planes at Katowice Airport (facebook.com/KatowiceAirport)
In August, the Katowice airport already celebrated the Boeing 757-300 of the Ukrainian airline Skyline Express as the largest narrow-body aircraft.
Skyline Express used to be called Azur Air Ukraine. Until February 2022, the airline specialized in the charter transportation of tourists of the Anex Tour tour operator from Ukraine. In 2023, Skyline Express received two Boeing 757-300s from a Turkish company, registered them in Ukraine, and in May began transporting tourists from Poland.
Skyline Express recently started operating flights from Warsaw-Radom Airport. This is already the fifth Polish airport where the carrier operates.